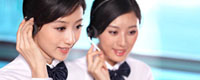 Name: Cassie.Huang
Tel: +86-755-27864416
Fax: +86-755-27864653
Mobile: 15989366182
E-mail: cassie@rxxdisplay.com
Skype: live:cassie_1191
QQ: 2850818618




Company News
>> Electronic reader trend gradually LCD panel manufacturers new territory 30th,Mar,2017
April 3 news, Amazon launched the e-book Kindle popular, attracting technology industry to grab this virgin land. Sony Corp (6758 -JP), a Japanese consumer electronics maker, today announced the launch of its own e-book and working with Google to provide copyright-free public books, which is a new business opportunity.
Seeing the rise of the paperless industry, including Taiwan Zhen Yao (6143- TW) and the Netherlands Polymer Vision, are ready to launch touch screen or wheel operation of the electronic reader.
"We are seeing a new industry in which e-books replace paper, publishing, textbooks, etc.," said Liu Junting, vice president of AU Optronics.
E-book style diversification, when to help reduce the price and stimulate sales, making it the next necessary electronic products.
Weight is much lighter than traditional paper books, using a flexible interactive display panel. Even if the power is turned off, the screen image will not disappear, just need an additional light source to read.
Because of the need for backlighting (such as traditional LCD), e-books consume less power and reduce weight more effectively. For example, a basic Kindle charge interval can be up to several days.
Computer and flat-panel TV sales decline at the same time, AUO (2409-TW) and Chi Mei Optoelectronics 3009 (TW) and other large panel makers in Asia, the bright future of e-book is particularly attractive.
A market research firm estimates that by 2012, the global e-book market will jump to nearly 300 million US dollars, up 143% over 2007, but still significantly smaller than the large LCD panel revenue of 72 billion US dollars.
In order to drive the e-book market, analysts believe that publishers should be subsidized, or provide similar mobile phone bundling services to receive service fees based.
In addition, the new electronic panels can also be used in other areas - like lights - to expand the market size and reduce costs.
The traditional newspaper market is declining, giving the erethon another rising springboard. E-book maker Plastic Logic earlier this year with the "Financial Times", "USA Today" and other media signed a cooperation agreement in an attempt to target the business market.