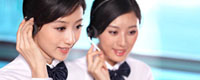 Name: Cassie.Huang
Tel: +86-755-27864416
Fax: +86-755-27864653
Mobile: 15989366182
E-mail: cassie@rxxdisplay.com
Skype: live:cassie_1191
QQ: 2850818618




Company News
>> Samsung Electronics large LCD panel cumulative sales exceeded 500 million units 6th,Apr,2017
February 25, Samsung Electronics today announced that the cumulative sales of large LCD panel business last month more than 500 million units.
Samsung Electronics said that since 1995 the company began operating LCD business, in 2005 just 10 years, large-scale LCD sales exceeded 100 million units. To 200 million in 2007 exceeded 200 million in 2008 exceeded 300 million units in 2009 exceeded 400 million units. In particular, in 2009, only one year in 2009 sold 130 million LCD panels, opened an annual sales of 100 million units of the times.
Samsung Electronics to get such a performance and last year's beachfront emerging LED TV panel market and large-scale LCD TV field of strong sales are inseparable. Among them, the TV sector shipments accounted for 25% of the world, sales of about 41 million units, for two consecutive years occupy the industry's first position.
Samsung Electronics has also been concerned about the DID (Digital Information Display) and other public display market increased sales efforts to make it a new growth momentum LCD market, and strive to follow the LCD market, continue to occupy the emerging application of the market dominance.
In addition, according to market research firm Display Search February 4 survey results, Samsung Electronics last year's LCD panel sales reached 17.7 billion US dollars, the market share of 27.6%, LCD sales for eight consecutive years the world's first.
In terms of area, the total area of ​​the panel reached 2.216 million square meters, 2.6 times the area of ​​Yeouido.
Samsung Electronics LCD Division, vice president of strategic marketing KIM JAEKWON said, "Samsung Electronics to LED TV, 3D TV and other new products as a basis to lead the new market trends, strengthen cooperation with customers, this year will continue to strive to maintain the world LCD market First position. "