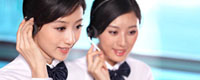 Name: Cassie.Huang
Tel: +86-755-27864416
Fax: +86-755-27864653
Mobile: 15989366182
E-mail: cassie@rxxdisplay.com
Skype: live:cassie_1191
QQ: 2850818618




Company News
>> 2017 LCD panel shipments will reach 4.4 million 10th,Apr,2017
Market research firm Digitimes Research recently research shows that in 2017, for digital signage LCD panel shipments will reach 4.4 million, an increase of 8.6%. After which shipments will continue to grow, reaching 5.8 million by 2020.
Digitimes Research also pointed out that although the use of SMD (surface mount device) RGB LED technology to improve the digital signage LED display panel resolution, but the LCD screen (LCD) in the resolution is still more advantages.
Although the large format applications in the LCD display still need more than the unit of the splicing, but its ultra-thin panel design and improved image technology will remain the mainstream LCD market status.
In addition, Digitimes Research noted that the development of digital signage is being combined with the Internet of Things (loT), cloud computing and large data analysis to capture and analyze data for commercial use.