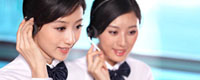 Name: Cassie.Huang
Tel: +86-755-27864416
Fax: +86-755-27864653
Mobile: 15989366182
E-mail: cassie@rxxdisplay.com
Skype: live:cassie_1191
QQ: 2850818618




Company News
>> South Korean scientists have developed graphene OLED panels 13th,Apr,2017
South Korean scientists recently led the industry, the first to develop a transparent electrode with graphene OLED panel, not only indium tin oxide (ITO) transparent conductive coating easy to break the shortcomings, but also durable, the future also have the opportunity to sew clothes OLED The
ZDNet, Korea Herald reported that the Electronics and Telecommunications Research Institute (ETRI), in cooperation with Hanwha Techwin, produced a transparent electrode with less than 5 nanometers in thickness based on Graphene. Out of a 370 × 470mm (equivalent to 19-inch screen) OLED panel, the industry first.
Graphene is a transparent and flexible conductor, known for its durability and thermal conductivity, and scientists are actively developing a wide range of applications, with the most watched panel. ETRI developed the process, the OLED glass substrate can be plated with the correct number and shape of transparent electrodes of graphene, the future can be developed according to the flexible intelligent device.
ITO transparent conductive coating currently used in business, it is easy to break, if the graphene transparent electrode to replace, can be combined with a flexible substrate, making a flexible ultra-thin panel, directly applied to the wearing device or even clothes. ETRI will replace the glass substrate with a plastic substrate.