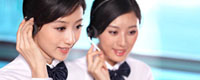 Name: Cassie.Huang
Tel: +86-755-27864416
Fax: +86-755-27864653
Mobile: 15989366182
E-mail: cassie@rxxdisplay.com
Skype: live:cassie_1191
QQ: 2850818618




Company News
>> 2017 VR AMOLED display market will be a shortage 22th,Apr,2017
Taiwan's research team Trendforce said that the current VR helmet's leading brand is HTC (April 16-16 market share of 61.4%), but Taiwan enterprises in 2017 will not be able to continue the leading position, mainly due to the shortage of supply of OLED market.
According to Trendforce, 2017 HTC is expected to ship 600,000 Vive devices, Sony will ship 2.5 million PlayStation VR equipment, Oculus will ship 1.2 million, other brands total shipments will reach 800,000. And all VR helmets will use OLED display.
Trendforce points out that Samsung's display display output can not meet the demand, it will give priority to supply partners, which means that Oculus and Sony will get more than the HTC display. Trendforce data pointed out that this is HTC in 2017 can only ship 600,000 devices the main reason.
HTC Vive and Oculus rift using the same display, that is, 3.54-inch 1080 × 1200 resolution PenTile AMOLED display, refresh rate of 90Hz. Each helmet uses two such displays (one left and right). However, according to Trendforce news sources, some HTC helmets use a different display, that is, AUO's 3.8-inch 1080 × 1200 VR AMOLED screen. The news has not yet been confirmed, but if it is true, in the Samsung can not provide sufficient panel in 2017 under the premise that HTC will most likely increase the AUO orders.
In addition, Sony's PlayStation VR with 5.7-inch FHD (1920 × 1080) AMOLED display, the display is also made by the Samsung display.