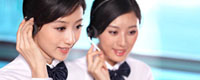 Name: Cassie.Huang
Tel: +86-755-27864416
Fax: +86-755-27864653
Mobile: 15989366182
E-mail: cassie@rxxdisplay.com
Skype: live:cassie_1191
QQ: 2850818618




Company News
>> Samsung next year or for the Apple to provide 40 million OLED panels 19th,June,2017
Samsung can be counted as the giant of the display industry, especially in the OLED panel field is even more so. According to foreign media reported on June 29, Samsung or next year for Apple's iPhone to provide 40 million OLED panels.
It is estimated that Samsung will only produce 239 million OLED panels for its own this year, and by 2019, it will produce 560 million pieces for its own and other homes. Samsung provides OLED panel for Apple, its supply target is 40 million in 2017, 2018 80 million, 2019 to 120 million, increasing year by year.
40 million this figure is only half of iPhone sales, which will make us believe that the previous rumors - Samsung will provide the iPhone with 5.5-inch models of OLED panels. However, in view of other manufacturers are also competing for the manufacture of Apple display, next year's things this year is not yet finalized.