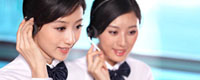 Name: Cassie.Huang
Tel: +86-755-27864416
Fax: +86-755-27864653
Mobile: 15989366182
E-mail: cassie@rxxdisplay.com
Skype: live:cassie_1191
QQ: 2850818618




Company News
>> Is expected next year, large-size TFT LCD panel shipments increased by only 0.5% 13th,July,2017
DIGITIMES Research estimates that the annual growth rate of large-size TFT LCD panels in the world is only 0.5% in 2015, mainly due to the reduction in demand for NB, display and tablet terminals in 2015, but due to continued shipments of TV panels Towards large-scale development, the estimated size of the TV panel in 2015 is expected to increase 1.2 inches to 40.5 inches, will make the overall size of large-size TFT LCD area increased by 8.2%.
Among them, in the large-size panel demand area increase in the total, the contribution of the TV panel as high as 90%, so the demand for TV panels and the size of the average size of the ship will be about 2015 large-size panel demand growth key.
In the supply side, in 2014 the global manufacturers in large-size LCD panel production capacity increased by only 2.1%, panel manufacturers in excess of demand for more than no increase in capacity utilization, and through the production line and process optimization to meet the demand. 2015 mainland manufacturers, South Korean manufacturers continued to expand production capacity in the mainland, and Taiwan manufacturers, including group Chong, AUO also announced in late October will expand the size of large-scale panel production capacity. DIGITIMES Research predicts that by 2015 the global large-size LCD panel capacity growth rate will reach 5.9%, an increase of up to a new high in recent years.
On the whole, because the TV panel demand area of ​​76% of the overall size of the LCD panel, as long as the TV panel average ship size can be maintained at 1.2 inches or higher increase in the estimated 2015 overall large-size TFT LCD panel supply and demand remains Can be maintained in a balanced state, which will benefit panel makers to maintain a profit margin comparable to the second half of 2014.