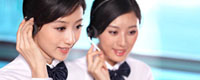 Name: Cassie.Huang
Tel: +86-755-27864416
Fax: +86-755-27864653
Mobile: 15989366182
E-mail: cassie@rxxdisplay.com
Skype: live:cassie_1191
QQ: 2850818618




Company News
>> OLED to become the mainstream mobile phone panel Samsung will dominate the market 20th,Jan,2017
Smart phone panel mainstream products in the near future is estimated to be transferred from the LCD to the OLED, and the estimated Samsung Display thriving situation will continue. According to IHS estimates, in 2019 the sales volume of OLED panel for smartphone will be expanded to US $ 19.5 billion from US $ 10.6 billion in 2015, accounting for 51% of the total smartphone panel share from 37% in 2015; LCD panel sales will shrink from 20.8 billion US dollars to 19 billion US dollars, the proportion will decline from 63% to 49%.
On the shipments of view, is expected in 2019, intelligent machine OLED panel shipments will soared to 6.3 million, will reach 2015 (2.5 million) 2.5 times; the other hand, LCD panel estimates only from 1.29 billion Film slightly increased to 1.34 billion.
The report points out that the Apple iPhone is currently using LCD panels, but is expected to be the fastest in 2017 using OLED, and industry estimates, when the smart phone panel market to OLED as the center, Samsung Display thriving fabrics will continue a period of time.
Samsung Display in the smart phone with a small size OLED market swept 99% market share, the production of 6th generation of flexible OLED panel factory in South Korea currently capacity to 15,000 per month, but plans to significantly expand the end of next year to 10.5 Million.
In response to Apple may use OLED panels, the current iPhone panel supplier Japan Display Inc (JDI), Sharp (Sharp), LG Display (LGD) have plans to OLED device investment.
Sharp on February 25 announced that Hon Hai (2317) / Sharp plans to spend 200 billion yen, set up factories in the Kameyama OLED panel research and development production lines, test production lines and production lines, and plans in 2018 The goal is to produce about 90 million 5.5-inch intelligent OLED panels with an annual revenue target of 2,600 units. The goal is to produce about 10 million 5.5-inch OLED panels by the end of 2019, Billion yen.
In response to Apple's intention to switch to the OLED panel on the iPhone trends, iPhone main panel supplier JDI plans to cast 50 billion yen in the factory set up OLED panel production line Maoyuan, and is expected to be opened in the spring of 2017 to produce 1 million Smart phone panel, and after the plan in 2018 will be increased to 500 million per month, to volume production technology, power anti-run in front of Samsung, LG and other Korean plants.
Apple Intelligence website iPhone Mania May 17, AppleInsider quoted the report pointed out that UBI Research released forecast report, equipped with surface OLED screen iPhone projection will come out in 2018. UBI pointed out that 2018 shipments of iPhone in the proportion of OLED screen is estimated to be 30% (about 100 million), and in 2020 the proportion will be significantly increased to 80% level.
UBI said that at this stage to meet the quality requirements of Apple's OLED panel makers only Samsung, but Apple OLED panel orders are not expected to just give a Samsung, but will be distributed to multiple vendors, Samsung estimated to eat 60% of orders , LG is 20-30%, the rest will be Japan Display Inc (JDI) and Hon Hai supply, and according to sources pointed out that Hon Hai has recently purchased from Canon Tokki OLED production equipment.