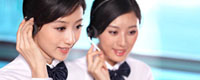 Name: Cassie.Huang
Tel: +86-755-27864416
Fax: +86-755-27864653
Mobile: 15989366182
E-mail: cassie@rxxdisplay.com
Skype: live:cassie_1191
QQ: 2850818618




Company News
>> Global TFT LCD panel industry in 2006 and 2007 manufacturers trend 14th,August,2017
In the large TFT LCD panel, the application market is mainly NB, Monitor, LCD TV and other products, which NB, Monitor growth of the decisive factor lies in Microsoft's Vista operating system, Vista's listing is expected to drive the demand for widescreen products. Another growth comes from LCD TV. Even if the demand and the importance of TFT LCD panel increases day by day, but can not be denied that manufacturers from the beginning of the first quarter of 2006 to enjoy the rapid decline in the price of pain.
Looking forward to 2007, LCD TV screen size, thanks to the panel manufacturers a new generation of production line expansion, the screen size is expected to develop to 40 to 50 inches and become mainstream. In 2006, Sharp has developed a 4ms model in 2006, and is expected to continue to meet with LED backlighting and new liquid crystal materials in 2007 and to achieve faster response times. Shadow phenomenon. In addition to the efforts to improve color reproduction, the future should be gradually toward the LED as a backlight to improve the color performance of the panel, while reducing the panel power consumption.
Global large-scale TFT LCD overall shipments in 2006 is expected (Figure 1), compared with 2005 increased by 25% to 260 million, of which the notebook computer panel is expected to ship the volume of 76.68 million, the monitor panel Shipments of 130 million, LCD TV for 49 million. It is expected that the number of shipments in 2007 will reach 310 million, the volume of notebook panels will be 93.5 million, the panel of monitors will be 150 million, and the LCD TV will have the opportunity Breaking 70 million pieces.
In 2006 the world's largest TFT LCD shipments accounted for the largest cases are still monitors, up to 52.5%, followed by notebook computer screen accounted for about 28.9%, while the TV from 2005 to 13% to 18%. The most noteworthy is that LCD TV panel shipments increased year by year, is expected to 2010, will reach nearly three percent of the ratio.