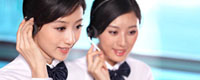 Name: Cassie.Huang
Tel: +86-755-27864416
Fax: +86-755-27864653
Mobile: 15989366182
E-mail: cassie@rxxdisplay.com
Skype: live:cassie_1191
QQ: 2850818618




Company News
>> Show industry development into the key node OLED panel to accelerate penetration 29th,August,2017
With the iterative update of display technology, the global display industry into the key nodes, OLED is expected to become the LCD after the "next generation display technology." It is reported that Apple is from Samsung large-scale procurement of OLED panels, purchase orders or will reach billions of dollars. Driven by Apple, the future OLED panel penetration process is expected to accelerate.
The popularity of OLED technology to break the traditional flat display restrictions, curved screen or flexible screen will become the mainstream trend, VR, wearable equipment and other areas of demand is expected to erupt, gave birth to huge market space.
Market research firm IHS predicts that from 2015 to 2016 OLED products accounted for about 12% to 17% of revenue, by 2020 is expected to reach 46%. At the recent Seminar on Industry Forecasting held by the state, analysts expect the AMOLED display panel to face a global shortage by 2017.
In the market demand continues to rise and the industrialization process to speed up the promotion, the major domestic manufacturers have switched to OLED production lines, and strive to occupy a new round of industrial upgrading opportunities. In August this year, BOE announced that it will mass production of China's first flexible display. November 16, Skyworth joint BOE, Haisi released China's first independent research and development of OLED TV. Although the current OLED core technology is still foreign companies to master, but our own research and development in already have a lot of deep technical reserves. In addition, the Development and Reform Commission, Ministry of Industry jointly issued the "2014-2016 new display industry innovation and development action plan" proposed to implement technological innovation, speed up the forward layout, to 2016 to master the AMOLED technology. Data show that this year's global OLED production line investment plan over 320 billion yuan. With the continuous improvement of the yield of OLED, production costs will gradually decline, OLED comprehensive replacement LCD will accelerate the inflection point.
OLED material layer formation mainly by the OLED material intermediates and monomer synthesis of crude or sublimation into monomer, and then by the panel manufacturers will be a variety of monomer deposition on the substrate, and ultimately the formation of OLED material layer. Among them, OLED organic materials accounted for 20% to 30% of the cost. The OLED organic materials, including light-emitting layer materials and transport layer materials, so the future of light-emitting layer materials and transport layer material demand will increase significantly. At present, China's material enterprises are mainly involved in the supply of OLED materials intermediates and crude products. In addition, OLED production line and LCD production line compared to the biggest change is the use of evaporation equipment manufacturing luminescent materials. With the rapid development of technology research and development and rapid increase in market penetration, the future OLED equipment and materials is expected to take the lead in the field.