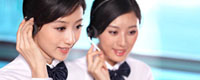 Name: Cassie.Huang
Tel: +86-755-27864416
Fax: +86-755-27864653
Mobile: 15989366182
E-mail: cassie@rxxdisplay.com
Skype: live:cassie_1191
QQ: 2850818618




Company News
>> Taiwan panel industry supply large size LCD TV panel in mainland China over 46% 30th,August,2017
Taiwan has accumulated rich experience in the development of electronic information industry, and with excellent innovation and manufacturing efficiency, in the key components of the development of international competitiveness, and gradually to the R & D innovation and brand industry technology rooted and marketing efforts to deepen , Manufacturers can be based on these core competitiveness, play their strengths, make full use of mainland China's home appliances to the countryside policy and Taiwan's purchasing groups of industrial exchange activities, and actively grasp the cross-strait industrial cooperation opportunities.
If the LCD TV key components of the panel, for example, due to the existing panel factory in mainland China, are 5 generations or less, is not suitable for the production of LCD TV panel, therefore, China's LCD TV panels are required external procurement, At present, the world can produce TV panel countries and regions, only South Korea, Japan and Taiwan, but South Korea and Japan's panel factory has its own TV brand, is the mainland TV manufacturers strong competitors, Taiwan manufacturers Made from the panel when the Chinese TV manufacturers are the best choice. Mainland home appliances to the countryside is expected to drive 25 million LCD TV market size to Taiwan panel manufacturers to supply large-scale LCD TV panel size of the mainland more than 46, Taiwan's panel enterprises in the home appliance industry driven by a lot of operating income.
Cross-strait industrial cooperation and exchanges, if you can play each other's strengths, effective link, mutual cooperation, will be able to effectively play their own competitive advantage, to achieve the specific benefits of multiplication. The strength of Taiwanese manufacturers lies in the design, research and development, production and manufacturing, both in terms of technological innovation and production efficiency, have been quite competitive in the international community, with such excellent core competencies, should actively grasp the Chinese mainland market, Industry exchanges and links in order to change rapidly in the economic environment, effective grasp of industrial development opportunities.
Taiwan manufacturers in the end product brand master still have a lot of effort to space, therefore, presented in the amount of product sales and the amount of Taiwan brand manufacturers are relatively weak, resulting in some media reports Taiwan businessmen in the home appliances to the countryside in the proportion of low situation. To color TV, for example, the Taiwan brand enterprises announced in the list in May, BenQ and other Taiwanese companies were selected for the first time, after winning the channel distribution and mainland people to apply for subsidies after the time limit factors, coupled with good quality brand in Taiwan, pricing Higher (BenQ 32-inch models priced at 3299 yuan, while the mainland market share of the first brand Skyworth 32-inch models priced at 2699 yuan), are likely to affect the number of sales factors.