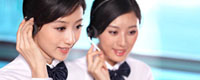 Name: Cassie.Huang
Tel: +86-755-27864416
Fax: +86-755-27864653
Mobile: 15989366182
E-mail: cassie@rxxdisplay.com
Skype: live:cassie_1191
QQ: 2850818618




Company News
>> TCL 350 million yuan layout AMOLED flexible display panel 12th,Oct,2017
March 31, TCL Group issued a notice, Huaxing Optoelectronics and Wuhan East Lake New Technology Development Zone Administrative Committee formally signed 6 generation LTPS-AMOLED project cooperation agreement, plans to invest in the construction of a monthly capacity of 45,000 to reach the 6th generation LTPS -AMOLED flexible display panel production line, will be used for the most high-end panel products, flexible substrate, flexible LTPS process, high efficiency OLED, flexible touch and flexible cover and other advanced technology, the use of organic vapor deposition of the production process, the main products for the 3 ~ 12 "high-resolution small and medium-sized flexible Foldable AMOLED display panel.
It is reported that this project will be started before June 30, 2017 construction, production in 2020, a total investment of about 35 billion yuan, of which the project company registered capital of 21 billion yuan, Huaxing photoelectric invested 11 billion yuan, Wuhan East Lake Management Committee Will be designated investment fund invested 10 billion yuan, the total investment and the difference between the registered capital of the project company will be the East Lake Management Committee to coordinate financial institutions such as banks to provide loans to target companies.
As AMOLED panel with thin flexible display, high contrast and fast response speed and other excellent performance, is conducive to folding smart phones, wearable electronic equipment, automotive and VR / AR and other applications in the field of display. According to IHS data, LTPS-LCD and LTPS-AMOLED in the global smart phone market penetration continued to rise in 2018 will reach 41% and 30%, occupy the main market share.
There are news that Apple will launch this year, the beginning of the new smart phone AMOLED screen, the domestic OPPO, vivo and Huawei as the representative of the mobile phone manufacturers have gradually increased AMOLED in its high-end smart phone application ratio. At present, the global OLED production capacity is basically monopolized by the Korean panel factory, Samsung in the smart phone AMOLED screen market share of more than 95%, due to high technical barriers to OLED, and upstream materials and key equipment supply is scarce, complex process, the domestic panel business is not yet Mass production.