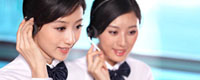 Name: Cassie.Huang
Tel: +86-755-27864416
Fax: +86-755-27864653
Mobile: 15989366182
E-mail: cassie@rxxdisplay.com
Skype: live:cassie_1191
QQ: 2850818618




Company News
>> CPT Yingcun jointly launched liquid metal oxide LCD screen 10th,Nov,2017
Evonik iXsenic® is a liquid processable inorganic metal oxide semiconductor at room temperature primarily used in the display industry by the Evonik Resource Efficiency business unit. The product does not require vacuum operation and therefore offers process advantages, high throughput and low cost. Through slot coating, iXsenic® delivers the best performance.
Taiwanese monitor manufacturer CPT Corporation is committed to providing a full-scale product line and positioning itself as a leader in visual telecommunications products and as a full-fledged innovator of optoelectronic technologies.
Following the display of display samples at Touch Taiwan last year, CPT partnered with Evonik to apply iXsenic® metal oxide semiconductor coatings on CPT's Gen4 line. The result of a partnership between the two companies is a 5.8-inch cell phone display with increased performance and reliability that will be on display at SID Week.
Caption: Chunghwa Picture Tubes and Evonik have been interviewed on SID2016
Professor Ralf Anselmann, Vice President, Evonik Electronics Solutions, said: "Display Week is one of the most important fairs in the global display industry and is proud to be here to showcase our latest developments with our partner display manufacturer, CPT."
"This display once again shows that iXsenic® is ideally suited for coating process mass production and we are continuously improving and moving toward mass production," said Dr. Liang Jianzheng, CTO CTO.
In addition to display sample demonstrations, Evonik is also showing Weeks Fairs unite SCREEN FT to showcase its first results of its strategic partnership and look ahead to the future. Allegedly, the two companies will be in 2017 to provide iXsenic ® metal oxide semiconductor technology, mass production solutions.