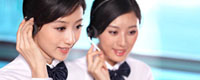 Name: Cassie.Huang
Tel: +86-755-27864416
Fax: +86-755-27864653
Mobile: 15989366182
E-mail: cassie@rxxdisplay.com
Skype: live:cassie_1191
QQ: 2850818618




Company News
>> LG Display Holds OLED Technology Seminar in China Patent Office 7th,Dec,2017
Highlight OLED technology leadership, help OLED patent applications and protection, LG Display continue to promote the development of OLED technology in China. Recently, LG Display held a briefing on OLED TVs and plastic OLED technologies at the Patent Examination Collaboration Tianjin Center of the Patent Office of the State Intellectual Property Office to explain the technological advantages of OLEDs to more than 100 patent examiners in the field of electronics. In addition, on the development of OLED technologies and industries Related issues and examiners conducted in-depth exchanges.
OLEDs are widely regarded as the ideal technology for next-generation displays and can be widely used in displays such as televisions, cell phones, commercial and automotive products. OLED with self-luminous features, no backlight, each of its pixels can control the brightness, you can achieve perfect black display; the same time it has unlimited freedom of design, enabling transparent, flexible, foldable display applications, is to achieve more The best possible technology for future products.
As the world's only large-size OLED TV panel manufacturer, LG Display occupies a leading position in OLED TV panels. Its 55-inch, 66-inch and 77-inch OLED TVs are favored by the artistic appearance and excellent display performance. In addition, LG Display is also actively investing in plastic OLED technology, to further lead the smart phones, smart watches, automotive and other products. LG Display attaches great importance to the development of the Chinese market, aims to bring consumers a better product and experience through continuous product and technological innovation. In the recent five years, more than 30% of LG Display's overseas patents have been filed in China. In the future, LG Display will continue to strengthen its patent applications in China.
At the technical briefing on the day, LG Display CTO Jiang Renbing said: "LG Display operates a 8-generation LCD panel factory in Guangzhou and operates modular plants in Nanjing, Guangzhou and Yantai and will provide differentiated technical capabilities and Products and continuous efforts. "At the same time, he also stressed that in the future, there will be more and more products manufactured and sold in China equipped with LG Display cutting-edge OLED technology, in order to protect these cutting-edge technology, LG Display will also be strengthened in China Patent investment, to further expand its OLED patent portfolio in China.