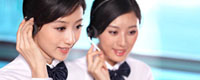 Name: Cassie.Huang
Tel: +86-755-27864416
Fax: +86-755-27864653
Mobile: 15989366182
E-mail: cassie@rxxdisplay.com
Skype: live:cassie_1191
QQ: 2850818618




Company News
>> July large-size TFT LCD panel shipments down 7% 11th,Dec,2017
Panel shipments report shows July large-size TFT LCD panel shipments of 57.7 million, a monthly decline of 7%, but compared to the same period last year grew 4%. NPD DisplaySearch pointed out that in the second quarter of this year, large size (9-inch and above) panel shipments reached a record high of 181 million, while LCD TV panel shipments reached 6.4 million and other single-season record high.
However, Wu Jung-bing, senior panel analyst for Greater China at NPD DisplaySearch, said panel shipments overdrafts in the second quarter as well as concerns that downstream preparations for panel inventory adjustments in the fourth quarter are gradually fermenting, resulting in a 7% decline in large-size panel shipments in July, . Observed by the shipping indicators, downstream demand for the World Cup, the end of the sales season and the North American Black Friday Thanksgiving Day sales did not fully cool the stocking but gradually ease the trend; and the third quarter of large-size panel shipments in quantity Say may be lower than the second quarter, panel makers in the second half of the capacity utilization policy may show a slight downward trend.
NPD DisplaySearch observed more than 9-inch tablet
Panel and notebook panel shipments the most significant decline, the monthly decline of 29% and 8% respectively. The main reason is that some laptop brands make inventory adjustments to their panels, and the gradual entry of tablet sales into maturity and fierce low-price competition has also led many computer brands to fix shipping targets for their tablets, thereby reducing their panel purchases. The second quarter of the notebook panel shipments are very eye-catching, so that many panel makers to re-adjust their shipments in 2014 goals, panel makers in the panel to raise shipments target lower down the machine ready to lower the state, the notebook Supply and demand of the panel of the computer may change in the fourth degree.
In LCD monitors and LCD TVs, the current 19.5-inch, 21.5-inch, 23.6-inch, 32-inch, 39.5-inch, 40-inch and even 50-inch panels are still more or less short. In the LCD monitor section, supply and demand are relatively stable, but shipments in July dropped slightly due to inventory adjustments by certain downstream brands in July. 18.5-inch, 21.5-inch and other more mature product shipments decreased, but 23.6 inch, 23.8 inch, 27 inch and 28 inch and other large-size products increased. LCD TV panel shipments declined slightly by 1%. South Korea's two major TV brands Samsung and LG Electronics in July for a slight inventory adjustment caused these shocks. However, the demand for TV panels in the Chinese market, North American and South American markets and the Asia Pacific market still maintained a certain degree of enthusiasm. The most obvious LCD TV size in July became more apparent, 50-inch LCD TV panels or more shipments jumped from 3.5 million in May jumped to 3.8 million in June; and in July is even more important Break through a single month 4 million.
In the panel section of the tablet, covering all sizes (5 "-12.5"), July shipments of 25 million panels, a substantial reduction of 5 million from 30 million in June. The main reason is that the 7.9-inch panel of the iPad Mini undergoes drastic order adjustment in July, resulting in less than expected performance of panel suppliers such as LG Display and Sharp in the iPad Mini, as well as shipment of 7-inch tablet panels But also substantially reduced from June to July nearly 200 million, it is clear that the market for 7-inch tablet is gradually affected by large-size 5.5-inch mobile phones.