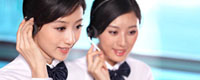 Name: Cassie.Huang
Tel: +86-755-27864416
Fax: +86-755-27864653
Mobile: 15989366182
E-mail: cassie@rxxdisplay.com
Skype: live:cassie_1191
QQ: 2850818618




Company News
>> TCL the world's highest generation panel production line plans to put into operation 19 years 13th,Dec,2017
Recently, the 11th generation TFT-LCD and AMOLED new display device production line construction project (referred to as "G11 Project") invested by TCL Group Huaxing Power officially announced the start of construction. It is reported that, G11 project is completed, is expected to become the world's highest generation, the largest amount of investment panel production line.
Make up for our country's large-size high-end display market vacancies
The G11 project is located in Hong'ao Community, Guangming New District, Shenzhen City with a total investment of 53.8 billion yuan. Its designed production capacity is 140K and covers an area of ​​1.03 million square meters. It is planned to put into operation in early 2019. The main products are 43 inches, 65 inches and 75 inches liquid crystal display, OLED display, large public display and so on. The product focuses on 8K as the representative of the ultra-high-definition, large size, OLED three technical areas, to bring consumers the ultimate sensory experience.
According to insiders, G11 project is expected to become the world's highest generation, the largest amount of investment panel production line to further expand our market share in the TFT-LCD industry, improve the coverage of different sizes of products to make up our country in the large size, The market vacancies of high-end display products have an important strategic significance for promoting the transformation and upgrading of China's television industry.
The project is the world's largest semiconductor display panel factory
Li Dongsheng, chairman of TCL Group and chairman of Huaxing Optoelectronics, said that Huaxing Power has completed two 8.5-generation LCD panel production lines t1 and t2 and one 6-generation LTPS panel production line t3. Among them, t1 production capacity reached 155K, is the world's single 8.5 capacity generation line; t2 production capacity of 122K, more than the design capacity, is China's first production Cu / Cu + COA 8.5 generation line.
As of October this year, t1 and t2 cumulative sales revenue of 78.95 billion, turned over various taxes 11.16 billion. "Semiconductor chips and displays are the field of electronic information industry technology and the most intensive fund. The semiconductor display industry in China is establishing a strong competitive edge. The G11 project that has just started construction is the largest semiconductor display panel factory in the world. It has not only large scale but also imported Latest technology and technology. "Li Dongsheng said.
High-generation production line mainly produces large-size 32-inch LCD panel, generally defined as six generations of lines above, referred to as high generation line, high generation line. Line generation, the meaning of generations, refers to the size of the glass substrate. The greater the generation line, the larger the panel area, you can cut out the smaller the number of small LCD panels.