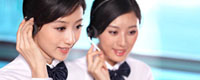 Name: Cassie.Huang
Tel: +86-755-27864416
Fax: +86-755-27864653
Mobile: 15989366182
E-mail: cassie@rxxdisplay.com
Skype: live:cassie_1191
QQ: 2850818618




Company News
>> TCL Group: July sales of 1.79 million LCD TV panels and modules 22th,Dec,2017
TCL Group announced the sales of major products in July on the evening of August 7. TCL Group LCD TV sales in July 1,207,300 units, an increase of 6.62%. Among them, TCL Multimedia LCD TV sales in the domestic market this month were 515,300 units, down 19.92% on the back of the withdrawal of the subsidy policy for the domestic "Energy-saving Products Huimin Project"; TCL Multimedia sold 657,300 overseas markets this month Taiwan, an increase of 40.42%. In the Chinese market, TCL Multimedia's July sales of smart TVs and 3D TVs accounted for 23.24% and 20.13% respectively.
TCL Communications sales of mobile phones and other products in July totaled 5.066 million units, an increase of 69.56%. Among them, the sales volume at home and abroad was 3480 thousand and 465.86 thousand respectively. In July, the sales volume of smartphones was 1.4706 million sets, an increase of 147.37% over the same period of last year.
The overall sales volume of home appliance business continued to grow. Sales of air conditioners, refrigerators and washing machines increased 26.13%, 20.56% and 97.80% respectively in July.
In July, Huaxing Optoelectronic made 118,000 pieces of LCD glass substrates, an increase of 135.49% over the same period of last year. LCD TV panels and modules total sales of 178.97 million.