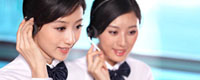 Name: Cassie.Huang
Tel: +86-755-27864416
Fax: +86-755-27864653
Mobile: 15989366182
E-mail: cassie@rxxdisplay.com
Skype: live:cassie_1191
QQ: 2850818618




Company News
>> Domestic TFT-LCD panel investment tropical panel overcapacity? 22th,Dec,2017
Recently, BOEK's 8.5th-generation new-type semiconductor display device and system project officially started construction. It is estimated that BOE will start production in mid-2015, not only for BOE and domestically made panel companies to accelerate the expansion of production capacity.
According to the introduction of BOE, this project adopts the core technology of BOE such as Oxide TFT, touch panel and ADSDS wide viewing angle. With a total investment of 32.8 billion RMB, the project will produce notebooks, tablets, high-end displays Display module, touch screen and TV machine.
In addition to the BOE just started building a new type of semiconductor display device production line in Chongqing, the fourth quarter of this year, BOE 5.5 generation AMOLED Erdos production line and 8.5 generation of Hefei will be commissioned. Zhang Yu, vice president of BOE, said BOE will scale production capacity will be ranked No. 5 in the world.
Accelerate the expansion of domestic production capacity of the panel companies not only BOE, after Panda has been identified with Japan Sharp cooperation, in Nanjing to set up 8.5 generation LCD panel and module joint venture. Recently there is news that Huaxing Power in the future large-size and new technologies on the layout of the 8.5 generation line two projects with a total investment or will reach 240 billion yuan, the project has been submitted for trial, is waiting for the relevant government departments for approval. Sources said the second phase of the project has been technically improved, including oxide semiconductors and AMOLED, can produce larger size 24,32,42,55,60,98 products, and 55-inch OLED display.
The industry expects that the domestic high-generation LCD panel line will have a large-scale production capacity by 2015. Up to 8 panel production lines above the 8th generation line are expected to be further expanded to 10 at that time. NPD DisplaySearch predicts that by the end of 2015 China-made TFT-LCD panels will account for 23% of the global market, up from 12% in the fourth quarter of last year.
Chongqing 8.5 on behalf of line: BOE layout of the future shows a key step
In China's LCD panel business profitability situation, recently, China has two 8.5-generation line put on the agenda: China Electronics and Sharp to form a joint venture company, build capacity of 60,000 / month on behalf of the 8.5 generation line; BOE Chongqing 8.5 generation Line officially started with an annual output of 40 million, two 8.5-generation line is expected to put into operation in June 2015. The two high-generation LCD panel production line once again pushed the liquid crystal industry to the cusp of public opinion, LCD production capacity is excessive, the next generation of display technology how to layout and other topics once again be mentioned.
July 17, BOE Chongqing 8.5 generation of new semiconductor display project started. With the project put into operation, the BOE product line is further enriched and the production capacity also further expanded. "Ten years of grinding sword, BOE has accumulated rich experience and professionals in the field of semiconductor display, with the world's leading technology and operations management capabilities in 2012 and the first half of 2013, BOE profitability, technological innovation capabilities are among the top in the world We are completely confident and capable of relying on years of accumulated independent technology and project management experience to build this project into the most globally competitive production line. "Wang Dongsheng, Chairman of BOE Group, addressed the opening ceremony of the 8.5-generation new semiconductor display project in Chongqing Say. Confidence, ability, but also have the funds, a market, but also profitable, sustainable development, the BOE Chongqing 8.5 generation project started, once again the BOE and China flat panel display industry to the cusp of public opinion, "overcapacity "," New technology alternative "two" clichés "again be mentioned.