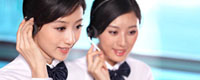 Name: Cassie.Huang
Tel: +86-755-27864416
Fax: +86-755-27864653
Mobile: 15989366182
E-mail: cassie@rxxdisplay.com
Skype: live:cassie_1191
QQ: 2850818618




Company News
>> Apple iPhone X boost OLED panel driver IC needs 27th,Dec,2017
Bang state OLED driver IC orders next year sing. Apple's new iPhone X into the OLED panel, the global smart phone factory began planning the launch of OLED panel phone, but also led panel makers outside Samsung to fully expand the investment OLED panel, OLED panel plant next year can be said to blossom everywhere. With the capacity one after another out next year, while driving strong demand for OLED panel driver IC, IC packaging and testing plant this year, technology and production capacity are ready, and next year is expected to swallow OLED drive IC packaging and testing large single.
In the second half of 2009, Bangbu benefited from the influx of IC packaging and testing orders for small size LCD driver ICs and touch panel driver ICs (TDIs), coupled with power amplifier and radio frequency (PA / RF) August consolidated revenue of 1.681 billion yuan, a record high single-month revenue. Corporal bullish state third quarter consolidated revenue will stand 5 billion mark, on the repair revenue growth rate of 15% or so, continuing a record high quarterly revenue record. Bang state does not comment on the financial figures estimated by legal persons.
Robust optimistic about the second half of the operation, in addition to smart phones using LCD driver IC packaging and testing orders to see the pick-up, cell phone PA / RF components this year began to use wafer-level packaging technology, Bump production capacity utilization picked up significantly, capacity utilization is almost full load level.
Apple iPhone X boost OLED panel driver IC needs
In addition, in the second half of some high-end handsets began to import In-Cell panel and integrated touch control panel driver IC (TDDI) program, due to TDDI chip packaging is difficult and test time is long, will help improve the average state orders Price and capacity utilization. As full-screen panel smartphones become the new mainstream in the market, the panel driver IC packaging process is changed from COG to COF because the packaging process changes and requires more testing time , Helping to push up the state revenue and profit growth.
For the next part of the operation, the state has been targeting OLED panel driver IC packaging and testing market to expand the layout of the action. iPhone X with OLED panel, the major mobile phone manufacturers are planning to launch a new handset equipped with OLED panel. Although more than 98% of handset OLED panels are currently supplied by Samsung, those including LGD, AU Optronics, Quantum, BOE, Pegasus and Sharp have started to invest in OLED panel production lines.
The OLED panel driver ICs are quite different from the LCD driver ICs now used in low temperature polysilicon panels. LCD driver IC voltage control using liquid crystal, each pixel requires a transistor, but OLED driver IC is driven by current, each pixel requires more than two transistors, OLED driver IC technology higher threshold, the price is three times the traditional LCD driver IC the above.
OLED panel production capacity of all major panel makers next year will be fully opened, the demand for OLED driver IC will be strong, Robust has completed the OLED drive IC packaging and testing technology research and development and capacity building, next year as long as the chip factory began shipping, Direct orders can be mass production. In other words, OLED driver IC will be a new growth momentum for Robust revenue growth next year.