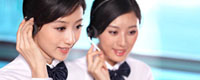 Name: Cassie.Huang
Tel: +86-755-27864416
Fax: +86-755-27864653
Mobile: 15989366182
E-mail: cassie@rxxdisplay.com
Skype: live:cassie_1191
QQ: 2850818618




Company News
>> The end of LG will provide 15 million OLED display for the iPhone 18th,Jan,2018
January 3, according to South Korea's "Electronic Times" reported that LG will be the end of this year for Apple's nearly 15 million new iPhone supply OLED panels, LG monitors declined to comment.
The end of LG will provide 15 million OLED display for the iPhone
LG Display is already an Apple iPhone LCD panel supplier. As the world's second-largest panel maker, LG Display has recently stepped up its investment in small OLED screen production to compete with the larger rival Samsung Display for the lucrative OLED panel market.
Sources said LG is building a small flexible OLED screen production line, is expected to enter mass production in the second half of this year. LG monitor is expected as early as this year won the Apple iPhone's second largest OLED screen supplier status.