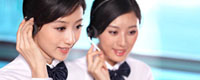 Name: Cassie.Huang
Tel: +86-755-27864416
Fax: +86-755-27864653
Mobile: 15989366182
E-mail: cassie@rxxdisplay.com
Skype: live:cassie_1191
QQ: 2850818618




Company News
>> 2007 global LCD processing equipment market is expected to decline 14% 19th,Jan,2018
According to market research firm The Information Network, the global market for array devices for flat panel displays dropped 11% in 2006 and is expected to decline further by 14% in 2007.
Lithography equipment from Canon and Nikon lead the market with sales of $ 1.2 billion in 2006 in this area. At the end of last year, Nikon's market share was 57%. The field of lithography will fall to 1 billion U.S. dollars in 2007.
The overall array processing equipment market is expected to recover in 2008 and 2009, up 28% and 8% respectively.
"As the LCD industry continues to face overcapacity, many vendors are slowing their capacity expansion by cutting their budgets," said Robert N. Castellano, president of The Information Network, in a statement. "AU Optronics, Chi Mei Optoelectronics and LG.Philips LCD have all announced recently that they have cut capital expenditures in 2007 due to the slowdown in growth and rapidly declining prices. In January 2007, the price of a 37-inch TV panel was raised from mid-2006 The $ 700 fell below $ 500. "
There are other bad signs in the industry. Castellano also pointed out that consolidation is a strategy as a means of controlling capacity. "There is now a rumor that Philips will sell a 32.9% stake in LG.philips LCD, with second-tier panel makers such as CPT and HannStar making up 73% of the market. Manufacturers keep pressure at all times. "
He said: "To reduce capacity utilization is another strategy, LCD manufacturers in 2007, the utilization rate of capacity has dropped from 95% at the end of 2006 to about 80%, but because the price is still continuing to decline, this is of no avail."