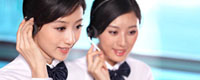 Name: Cassie.Huang
Tel: +86-755-27864416
Fax: +86-755-27864653
Mobile: 15989366182
E-mail: cassie@rxxdisplay.com
Skype: live:cassie_1191
QQ: 2850818618




Company News
>> Sharp developed a new concept of LCD, still retains the last image after shutdown 25th,Jan,2018
Sharp and Japan have to go in the forefront of LCD technology, they intend to design a LCD, when the power is off, the screen still shows the final image.
At present, the black and white panels with this effect have been produced, the size can be arbitrarily adjusted from 1.7-14 inches, Sharp did not disclose what technology to use to retain the liquid crystal image because the liquid crystal display requires a sustained voltage for the liquid crystal to maintain polarization .
Sharp, however, said it would make such displays using "materials that would not normally appear on liquid crystal displays," although this did not prevent the production of normal LCD lines.