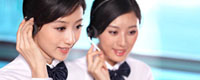 Name: Cassie.Huang
Tel: +86-755-27864416
Fax: +86-755-27864653
Mobile: 15989366182
E-mail: cassie@rxxdisplay.com
Skype: live:cassie_1191
QQ: 2850818618




Company News
>> NEC LCD announced the consolidation of its two factories and laid off 50% 26th,Jan,2018
March 11, NEC LCD Technologie announced that it will consolidate its two factories and lay off 50%; the company said it will close at the end of December this year, its factory in Kagoshima, Japan and the production line to Akita factory to Eliminate overlapping functions and operations of the two locations.
In addition by the end of March 2010, NEC LCD will be through recession policy, the number of employees will be reduced from the existing 1,190 to 600; as for the company's business headquarters in Kanagawa will also be transferred and merged to the Akita stronghold.
NEC LCD Technologies said that its existing product supply will not be interrupted due to the consolidation of the factory, the company will also continue to 3D display and electronic paper products, technology development. Toshihiko Ueno, President, said: "Our global business strategy remains unchanged and through this organizational restructuring we will further enhance our competitive position in the market."
NEC LCD Technologies disclosed that due to unfavorable exchange rate environment losses and expectations that the economy will not recover in the near term, the company had to cut fixed expenses to achieve higher efficiency. The company currently targets the industrial and high-end display markets, supplying active matrix LCD modules.