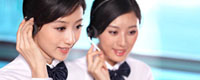 Name: Cassie.Huang
Tel: +86-755-27864416
Fax: +86-755-27864653
Mobile: 15989366182
E-mail: cassie@rxxdisplay.com
Skype: live:cassie_1191
QQ: 2850818618




Company News
>> The pursuit of smart phones maximize the screen Full screen industry welcomes the development opportunities 8th,March,2018
March 5, OPPO official announced its next-generation full-screen mobile phone R15 specific parameters, using a 6.28-inch 19: 9 full-field ultra-wide-screen, left and right borders narrow to 1.78 mm, screen share increased to 90%. On the same day, vivo formally released the vivo APEX full screen concept machine at the Institute of Hangzhou. With a 5.99-inch OLED screen, the vivo APEX full screen concept machine takes up 91% of the screen, making it the closest full-screen mobile phone.
In this regard, analysts generally believe that the pursuit of screen maximization is the main selling point of the future mobile phones, in the smart phones planned for shipment in 2018, the use of full-screen panel models will account for more than 40%, is expected to fully screen phone penetration in 2019 The rate will climb to 60%. With the advent of a full-screen era, the demand for full-screen panels has increased dramatically. At the same time, cutting process upgrades and component upgrades are being promoted. The profitability of the full-screen industry is expected to increase further.
As a matter of fact, the performance of full screen related listed companies is equally impressive. Up to now, two listed companies, namely Tongxingda and Shenma Tianma A, have disclosed their annual results for 2017. Net profit for the reporting period both achieved a year-on-year increase of 52.81 %, 41.82%. In addition, there are 13 listed companies that have disclosed their 2017 annual results announcement and 10 companies have achieved pre-IPO performance, accounting for nearly 80% of the total. Among them, BOE A (314.33%), Han Laser (135.00%), Zhiyun shares (115.97%), BlueScope Technology (95%), Changxin Technology (90%), TCL Group 70%), Ouffy Technologies (60%), Liandai Equipment (58.72%) and Helitech (54.5%) and other 10 companies expect the annual growth rate of net profit for the 2017 annual report to be over 50%.
Affected by this, on the 4th, the transition of the full-screen concept sector was evident, with the sector's overall surge of over 3%, and over 70% of individual stocks rose. Among them, East China Science and Technology achieved a daily limit, TCL Group also rose 5.28%, Ophelia Technology (3.71%), BOE A (3.58%), Shen Tianma A (2.00%) and Star Technology (1.17%) and other stocks rose more significant .
As for the flow of funds, a total of 7 stocks yesterday were the key points for large-cap funds to raise cash, totaling a net inflow of 1.153 billion yuan in large single funds. Specifically, BOE A topped the net large inflow of funds yesterday, reaching 1.19677793 million yuan, followed by the TCL Group. The net inflow of large single funds was 160.1671 million yuan, Huadong Technology (92.216 million yuan) and Ouffy Technology (3487.26). Million), deep Tianma A (9593600 yuan), blue think science and technology (5841900 yuan) and star science and technology (3300000 yuan) and other stocks also received a large number of funds of all ages.
As for the future development trend of the sector, CSC Securities stated that the large-scale promotion of the full-screen solution has brought tremendous development opportunities to the relevant companies in the industry chain, and the demand for full-screen mobile phones has been accelerated to promote the growth of corporate performance. At present, China's OLED panel companies are located in the international second tier, the future is likely to rise; the rise of domestic panel companies will drive the rapid development of domestic materials companies. Among stocks, OLED lighting and transmission materials focus on Wanrun shares, Puyang Huicheng, strong new material; flexible display film materials focus Kangdexin, Xinlun technology, Wanshun shares, Danbang technology, the era of new material. The follow-up point is mainly the increase in production line production rate and the introduction of domestic OLED screen terminal products.
In the performance of outstanding support, the recent institutional attention to the relevant blue-and-white stocks gradually increased, nearly 30 days, 10 concept stocks institutions to give "buy" or "overweight" and other promising ratings, specifically, Blue thought Technology, Opry Technology and other two stocks are optimistic about the number of institutions were three super-three, respectively, 10, 4, TCL Group, BOE A, Shen Tian Ma A, together with Thailand and other four stocks institutions are optimistic about the number of households are 3, Changxin Technology, Zhiyun shares, Han's Laser, United Equipment and other units are optimistic about the number of institutions are 2, the above 10 stocks annual report performance are achieved or is expected to achieve year-on-year growth, the market outlook has a high potential for upward , Worth the wait.