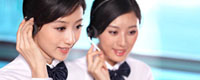 Name: Cassie.Huang
Tel: +86-755-27864416
Fax: +86-755-27864653
Mobile: 15989366182
E-mail: cassie@rxxdisplay.com
Skype: live:cassie_1191
QQ: 2850818618




Company News
>> TV market competition fierce OLED counters quantum dots 15th,March,2018
Traditionally, AWE is the stage for white power companies. However, the action of color TV companies at the show revealed some trends in the color TV market this year.
Samsung absent exhibition
This year's AWE, Samsung did not appear.
The industry's audience laughed and said: "Now the booth is so tight that it is short for the next one. It will be difficult to have a good booth afterwards. Some people also analyzed: "Isn't CES putting too much money and controlling costs, so I'm not participating. "
For specific reasons, Samsung did not disclose it. However, just a few hours before AWE was launched, Samsung held this year's new TV conference in New York.
Earlier, there were rumors that Samsung is returning to OLED. However, Samsung was denied this claim when the industry was talking about it. Han Jong-hee, head of Samsung's television and display department, said in Seoul that the company does not have a roadmap for OLED TVs. Samsung TV currently invests resources only in two directions: QLED and Micro LED.
Sharp's "Unswerving" 8K Route
Although the outside world still has doubts about the 8K industry chain, such as content output and chip support, Sharp has still vigorously promoted its 8K route at this exhibition.
At the Sharp booth, the 8K TV product named "Shang Qing Shang He Tu" was very bright, and Sharp brand officials told reporters that Sharp 8K television has already been put into the consumer market, not a concept.
Sharp's owner, Foxconn, went public through the Securities and Futures Commission's IPO on March 8th, setting a record for the fastest market, and it is also likely to become the largest A-share market capitalization company. After the successful acquisition of Sharp, Foxconn is using its own ideas to "renovate" Sharp.
Sharp's sources told reporters that Sharp's product line will be wider in the future than ever. High-, low-, and low-position products will all be available. Due to Foxconn's strong industrial chain support, prices of some Sharp products may be lower than before. .
Color TV two camps continue to kill
In this AWE2018, Skyworth made its debut with the theme of "Strontium AI shines and lights up your dreams". Among them, Skyworth brings AI quality chip technology and OLED products in TV technology and products.
As a firm promoter of OLED, Skyworth has launched OLED TVs since 2008. Skyworth has already launched many OLED TVs including the S series OLED TVs S9D, S9-I, S9300, S8, and W series of Wallpaper TVs W9 and W8. Currently the most abundant television companies in the OLED TV category in China.
At this year's AWE, Skyworth displayed a 65-inch Wallpaper OLED TV W9 with a thickness of only 3.65mm and a variety of folded and separated OLED TVs W8, etc., and introduced the newly developed Crytal Sound OLED screen self-acoustic television.
Skyworth stated that it has independently developed AI quality chips, including key AI technologies such as "precise and smooth processing", "dynamic target remodeling" and "super supplements", and can cooperate with OLED panels to provide the best viewing experience.
TCL will present three new products: the newly released X5 Quantum Dot TV, the C6 new theatre TV, and the P5 ultra-thin new surface.
Wang Cheng, senior vice president of TCL Group, stated that TV products are no longer just a piece of hardware. It also includes systems, rich content and application services in diverse home scenarios, based on the ultimate television audiovisual experience and aesthetic experience. , To provide better content and interactive experience for different segments of target users. Therefore, the essence of TV manufacturers is the provider of user time solutions.
Earlier, in an interview with the Nanfang Daily reporter, Wang Cheng said that TCL is still optimistic about quantum dot TVs in terms of yield, production capacity, and support.