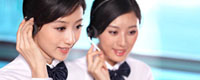 Name: Cassie.Huang
Tel: +86-755-27864416
Fax: +86-755-27864653
Mobile: 15989366182
E-mail: cassie@rxxdisplay.com
Skype: live:cassie_1191
QQ: 2850818618




Company News
>> CCID Consulting: 16:9 format LCD screen will become mainstream 16th,March,2018
A few days ago, CCID Consulting, a market research agency, issued a report that this year's 16:9 LCD screen resolution is expected to complete.
Cheng Xu, deputy general manager of CCID Consulting's Computer Industry Research Center, stated that low cost and low power consumption are the main advantages of the 16:9 panel. 16:9 is currently the most economical cutting method for upstream panel manufacturers. It can achieve a higher level of utilization of liquid crystal substrates and reduce panel costs. 16:9 reduces the number of tubes compared to 16:10, reducing the power consumption of the product. 16:9 has become the main element of the stimulus market.
Digital entertainment and 3C integration in 2010 provide a broad market for large-screen LCD applications. The 19-inch or larger LCD display function has overlapped with the function of small home TVs. The large-screen LCD-integrated TV-enabled display has become a tool for manufacturers to open up the market; at the same time, the large-screen product supports high-definition display, and its price advantage is obvious, and its market prospects are bright.
In 2010, LED displays will be favored. The penetration rate of LED backlight panels in the field of liquid crystal display panels will be rapidly increased and will be applied to the entire 18.5-inch to 24-inch range. Compared with the traditional backlight panel, the LED backlight panel has more outstanding advantages, such as power saving, thinness, and easy realization of product differentiation. With the improvement of consumers' energy-saving awareness and the continuous progress of green energy-saving technologies, LED backlight display products will be more able to meet the needs of the market.