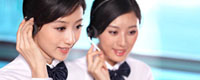 Name: Cassie.Huang
Tel: +86-755-27864416
Fax: +86-755-27864653
Mobile: 15989366182
E-mail: cassie@rxxdisplay.com
Skype: live:cassie_1191
QQ: 2850818618




Company News
>> Xin Yihua development 10.5 LCD panel with the robot to accelerate the mainland panel equipment
Continental panel leading plant BOE will cross the panel production, start research and development panel equipment, into the upstream market. It is undoubtedly bad news for Korean equipment manufacturers who expect orders to be ordered through the mainland's large-scale investment panel production line.
According to South Korea ET NEWS reported that the BOE Group's display equipment business relationship Xin Yihua (Sineva) recently developed 10.5 LCD panel with the robot equipment. Xin Yihua will be the beginning, to accelerate the localization of equipment.
Xin Yihua developed a removable thickness of 0.5mm 10.5 on behalf of the glass substrate panel handling robot, and open demonstration of the operation. The size of the substrate and the implementation of the Beijing side of the 10.5-generation line B9 with the same specifications. Xin Yihua handling robot production line in the B9 where the Anhui Province. Xin Yihua has also introduced 6 generations of LCD panel handling equipment.
Xin Yihua is the mainland government and BOE in 2013 to promote the localization of the establishment of the enterprise, the company is headquartered in Beijing, and in Hefei, Anhui Province and Fuyang City, the establishment of local branches, equipment manufacturing and cutting-edge materials research and development. In addition to research and development of semiconductors, service robots, intelligent factory products, but also to the Beijing side of the display with color photoresist, liquid crystal polymer film (LCP) materials.
Xin Yihua revenue in 2014 was RMB 9,991 million, the Hefei government estimated that Xin Yihua 2015 revenue will grow 5 times, about 500 million yuan.
Xin Yihua in the mainland photoelectric and technology innovation industry fund (ITF) under the auspices of the establishment. The fund is a private equity fund with a total size of RMB 10 billion, and the Israeli investment company Infinity Group and BOE are involved in the investment.
South Korean industry believes that the mainland government and BOE in the panel after the localization, will expand the scope of investment to promote the localization of panel equipment. Mainland central government to promote the display, semiconductor localization, investment huge amounts of money, upstream industries such as equipment, materials, components, etc. will also be all domestic and build industry competitiveness.
In fact, the mainland government in China in May 2015 to publish 2025 plan, the next 30 years will be divided into three stages to promote industry-oriented, in addition to downstream industries, in the relevant upstream, will also ensure that the core technology to enhance the mainland industry ecological competition force.
According to sources, BOE's goal is to panel and equipment are made in China, through cooperation with global equipment companies and other diverse ways to learn cutting-edge technology.