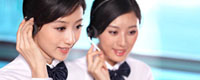 Name: Cassie.Huang
Tel: +86-755-27864416
Fax: +86-755-27864653
Mobile: 15989366182
E-mail: cassie@rxxdisplay.com
Skype: live:cassie_1191
QQ: 2850818618




Company News
>> Which mainstream products on the market are OLED screens? 4th,Apr,2018
What products currently on the market use OLED screens.
Among the several products that have recently been hotly debated, the vivo X21 series, the OPPO R15 series, the iPhone X, and the Samsung S9 have adopted OLED screens.
OLED screens have self-luminous, light and thin, bright color display, high contrast, fast response, so many of the flagship high-end products are also very fond of using OLED screens.
Especially after the advent of the full-screen era, orders for OELD screens supplied by Samsung skyrocketed. At present, only a few well-known big brands can get high-quality OLED screens from Samsung.
And with the advent of flexible screens, OLED screens will also play a greater role in the future, so who is now the first to deploy OLED screens who have made future development opportunities.