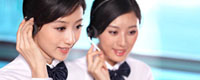 Name: Cassie.Huang
Tel: +86-755-27864416
Fax: +86-755-27864653
Mobile: 15989366182
E-mail: cassie@rxxdisplay.com
Skype: live:cassie_1191
QQ: 2850818618




Company News
>> Goddess perspective mounted? LG Releases 77-inch New OLED Panel 8th,Apr,2018
Yesterday, LG Display officially announced that it has successfully developed the world's first 77-inch transparent flexible OLED panel product. As an innovator in the display industry, LG Display has once again demonstrated and consolidated its leading position in the display industry with its recently developed large-size transparent flexible OLED panel products.
World's First Largest Size Transparent Flexible OLED Panel Comes Out
As the world's first largest transparent flexible OLED panel, the panel has 40% transmittance, UHD (3840×2160) 4K resolution, and a radius of curvature up to 80R.
LG Display has always been committed to developing large-size transparent flexible display products with its own technical strength. In fact, this 77-inch transparent flexible display panel is just one of the results of a series of milestone R&D products of LG Display. As early as 2014, LG Display developed an 18-inch flexible OLED panel with a radius of curvature of 30R and an 18-inch transparent OLED panel; in 2016, it developed a 55-inch transparent OLED panel product with a transparency of 40%.
77" transparent flexible 4K OLED screen
As a pioneer in the large-size OLED display market, LG Display has been at the forefront of the industry and continues to inject innovation into the market. LG Display CTO Jiang Renbing said that in the future, LG Display promises to continue to bring differentiated value to the market.