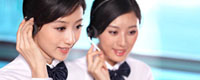 Name: Cassie.Huang
Tel: +86-755-27864416
Fax: +86-755-27864653
Mobile: 15989366182
E-mail: cassie@rxxdisplay.com
Skype: live:cassie_1191
QQ: 2850818618




Company News
>> High-end TV Wars: OLED Flags Open Victory Samsung QLED TV Downgrade Survival Machine 11th,Apr,2018
In the high-end TV wars, the OLED camp flag won and the international players moved closer to OLED. The QLED TV that Samsung Electronics promotes belongs to another camp and is now fighting alone. It can only reduce the price of survival.
Investor reported on the 26th that Korean panel maker LG Display (LGD) CEO Han Sang-beom indicated at the Consumer Electronics Show (CES) in January that it had signed a new supply agreement with OLED panel companies. Customers increased from 13 to 15.
Han Xiangfan did not reveal the signing industry. Now there is news from the industry, one of which is Chinese television company Hisense. LGD will produce OLED TV panels for Hisense since the second quarter of this year. Hisense is the global TV fourth brother, originally focusing on LCD (liquid crystal) television, Samsung QLED TV belongs to the LCD panel, Hisense had previously escorted the QLED camp, now seeing OLED continues to grow, decided to hold the OLED, ready to produce OLED TV.
OLED continues to grow. Samsung's high-end TV dominance for 12 consecutive years was forced out last year. According to IHSMarkit data, in the fourth quarter of last year, high-end TVs with a price above $2,500 were marketed first with Sony and secondly with LG Electronics, and Samsung was third.
Samsung's share of sales fell, with total TV sales target from 50 million last year, down from 41 million to 42 million this year. However, the company intends to focus on high-end QLED TV sales target from 1 million last year, to 1.5 million this year, to regain the name of high-end TV leader.
Samsung executives said QLEDs have lower prices, better picture quality than OLEDs, and cost-effectiveness. Samsung's price cuts for QLED TVs in the U.S. market have killed at most 37%. Industry observers say that Samsung has pushed the price of QLED TVs lower than OLED TVs to boost buying momentum.