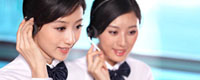 Name: Cassie.Huang
Tel: +86-755-27864416
Fax: +86-755-27864653
Mobile: 15989366182
E-mail: cassie@rxxdisplay.com
Skype: live:cassie_1191
QQ: 2850818618




Company News
>> Global large-size LCD TV panel is booming 19th,Apr,2018
It is reported that Chongqing Huike Jinhan Optoelectronics will invest RMB 40 billion (US$6.37 billion) to establish an 11G LCD factory in Zhengzhou, China, mainly producing 65-150 inch 4K/8K panels.
Large-scale LCD TVs in the world are booming
The global LCD panel industry has entered the 10.5/11G era, in which BOE began mass production of the 10.5G product line in March 2018. According to industry sources, BOE is expected to become the top supplier of 65-inch and 75-inch TV panels in 2019, despite the fact that it still faces learning curve and yield problems.
More 10.5/11G product lines will be launched in 2019 and beyond, including China Star Optoelectronics (CSOT)'s 11G product line, Foxconn's 10.5G product line, and the new 11G factory of Weike Electronics.
Huaxing Optoelectronics 11G plant will be put into mass production in March 2019, producing 90,000 glass substrates per month, mainly producing 43-, 65-, and 75-inch TV panels.
Foxconn's 10.5G production line in Guangzhou, China, is also expected to begin commercial production in 2019, and production may focus on 65-inch and 75-inch 8K IGZO panels.
Including the new 11G electronics factory, the 65-inch and 75-inch panels will become mainstream products within three years.
Currently, global shipments of 65-inch TV panels amount to about 1 million per month, with Samsung Display, LG Display, AU Optronics, and Innolux as major players in the market. At the same time, shipments of 75-inch panels reached about 150,000 per month, mainly from manufacturers in Korea and Taiwan.
In 2017, Samsung Electronics, LG Electronics and Sony were the top three suppliers in the 65-inch TV market. According to sources, Samsung Electronics and LG Electronics plan to ship 4.5 million and 2.1 million 65-inch TVs respectively in 2018, up from 3 million and 1.2 million over the same period last year. In 2017, Samsung and Sony are also in the leading position in the 75-inch TV field.