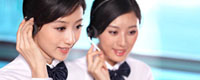 Name: Cassie.Huang
Tel: +86-755-27864416
Fax: +86-755-27864653
Mobile: 15989366182
E-mail: cassie@rxxdisplay.com
Skype: live:cassie_1191
QQ: 2850818618




Company News
>> What you don't know about TN wide viewing angle LCD panels 26th,Apr,2018
As we all know, the LCD panel is the most important part of the LCD monitor. In addition, it is also the most expensive component. Although the color effect of the display is not only decisive due to the quality of the LCD panel. But as a key part of the display that cannot be ignored, consumers have also developed a keen interest in LCD panels. Coupled with the wide variety of LCD panels currently available, it is no easy task for average consumers to understand each other after choosing one by one.
Friends who have known about the display will certainly know that the quality of the LCD panel's own display has a direct effect on the display effect of the monitor and the cost of the monitor itself. As a panel with a larger viewing angle, better color and grayscale performance, the wide-view panel has always been the goal pursued by many high-end users. The emergence of a wide viewing angle panel solves the difficult problem of consumers who have strict requirements for visual senses and screen colors.
The current liquid crystal display products are mainly divided into two types of liquid crystal panels. They are traditional TN panels, wide viewing angle (IPS/MVA/PLS) panels. The wide-angle view panel can be said to be the most popular panel among consumers at present, and TN has already been successfully popularized in the long-term development process.
How to choose TN/wide viewing angle?
In the TN panel LCD in 2009, the rapid development, but because of the shortcomings of the pursuit of rapid development has also attracted the attention of consumers. The TN panel liquid crystal has a limited range of color gamut, a narrow viewing angle, and a poorly-lit backlight, and many other problems have been severely challenged by the market and consumers. Coupled with the rapid expansion of product lines, manufacturers in order to seize the time to market and ignore the phenomenon of product similarity and innovation is not enough, so that many consumers lose confidence in such products.
The TN panel liquid crystal changes greatly after the observation angle becomes larger