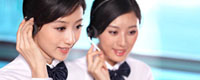 Name: Cassie.Huang
Tel: +86-755-27864416
Fax: +86-755-27864653
Mobile: 15989366182
E-mail: cassie@rxxdisplay.com
Skype: live:cassie_1191
QQ: 2850818618




Company News
>> Samsung will ship 55-inch transparent/mirror OLED panel in the second quarter of this year 3rd,May,2018
Samsung Display announced its 55-inch mirrors and transparent OLED display panels as early as last June, and the company finally announced that such displays will be available in the second quarter of 2016. The mirror monitor model is the ML55E and the transparent monitor model is the TO55E.
Samsung Transparent OLED Display
Samsung also announced that the display has a brightness of 150 nits and a transparency of 45% (reflection ratio of a mirror display is 75%) with a color saturation of up to 100% Adobe RGB.
Samsung Mirror OLED Display
Samsung will provide these display monitors for display system providers. In February 2015, Pingda announced the 55-inch Full HD transparent OLED prototype and began accepting Pingda's LookThru monitor orders in 2015. The unit price of the monitor is US$14,995 and the monitor will soon be shipping. Eyevis also announced a similar display, and the German-based Lang AG also demonstrated a 55-inch transparent touch-screen Full HD OLED panel.