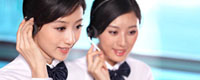 Name: Cassie.Huang
Tel: +86-755-27864416
Fax: +86-755-27864653
Mobile: 15989366182
E-mail: cassie@rxxdisplay.com
Skype: live:cassie_1191
QQ: 2850818618




Company News
>> New Breakthrough in Samsung OLED Panel Can Solve the Problem of Short Life-time 12th,May,2018
Samsung Electronics Co., Ltd. developed a breakthrough in its OLED panel, and announced on the 25th that it will work with Korea's Ewha Woman's University to find ways to extend the lifetime of OLEDs.
According to the report, compared with liquid crystal (LCD) panels, the biggest advantage of OLEDs is that they can display pure black without the need for backlight modules. OLEDs have fewer backlight modules, consume less power, and make devices lighter and thinner. However, a major drawback of OLEDs is the limited lifetime of blue OLEDs, which is only about 5,000 hours, which is far below that of liquid crystal or plasma panels. This is a major obstacle to the popularity of OLEDs.
Now that the blue OLED has a short life span, a solution has emerged. Yonhap News reported that Samsung Advanced Institute of Technology (SAIT) and Ewha Women's University jointly found the cause of blue OLED degradation, and discovered a way to extend the life of OLED.
Studies have found that it is extremely important to control the electron transport and reduce the generation of excitons. It is suggested that a new raw material composition framework be adopted to develop a longer-life blue OLED device. This discovery was published online in the journal Nature Communications.
Samsung's investment in the development of OLED panels is also reminiscent of whether the company intends to restart its OLED TV panel production line.
In order to welcome Apple's big order, Samsung set up the A5 factory last year, specializing in the production of smart OLED panels. Unexpectedly, the iPhone X buying was worse than expected, Apple's wisdom machine OLED orders cut in half, A5 plant question mark. It is rumored that the Samsung A5 plant may be transformed into an OLED TV panel production line.