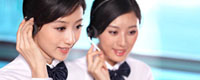 Name: Cassie.Huang
Tel: +86-755-27864416
Fax: +86-755-27864653
Mobile: 15989366182
E-mail: cassie@rxxdisplay.com
Skype: live:cassie_1191
QQ: 2850818618




Company News
>> Sharp lacks LCD capacity iPad will switch to LG and Samsung 16th,May,2018
According to reports, due to lack of Sharp LCD capacity, the first batch of new iPads released this Friday will use the Retina display panels provided by LG and Samsung. The Wall Street Journal said that Sharp had set up a production line for Apple's third-generation iPad, but for some reason they could not reach Apple's demand. Just the day before yesterday, Apple also officially announced that the first batch of new iPads ordered by the official website will be delayed by 2 to 3 weeks.
However, the situation of "backing" screen supplier LG is not optimistic. It is reported that they also suffer from insufficient production. Therefore, the daunting task of manufacturing the new iPad's high-resolution Retina screen was handed over to Samsung's hands (Samsung publicly claimed yesterday that Apple bought a lot of LCD panels from them). Analysts also said that the reason for LG and Sharp's "shortage of supplies" is actually trying to raise prices for Apple.
It was also pointed out that the main reason for Retina's screen supply crisis was the increase in SHA's technical requirements. New iPad screens using high-density aperture technology require higher levels of craftsmanship and more complex processes, which puts tremendous pressure on production.
If the news is true, on Friday, the first iPad to be purchased in line for fruit powder will use the LG or Samsung screens, and it is unclear whether subsequent versions will replace Sharp screens.