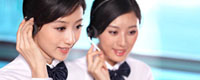 Name: Cassie.Huang
Tel: +86-755-27864416
Fax: +86-755-27864653
Mobile: 15989366182
E-mail: cassie@rxxdisplay.com
Skype: live:cassie_1191
QQ: 2850818618




Company News
>> 1T2R touch panel introduced LCD on-cell is expected to grow 6th,June,2018
2016 application rate of embedded trackpad will increase by 15-20% over last year
In 2015, display panel makers such as Japan Display, Samsung Display, LG Display, Tianma, BOE, AUO, Innolux, etc. significantly increased the supply of embedded touch panels, such as LCD in-cell and LCD on-cell. And AMOLED on-cell type, which has a huge impact on the market for additional touch panels.
The penetration rate of embedded touch panels in 2015 was as follows: 40% for Huawei Technologies, 50% for LG Electronics, 17% for Xiaomi, 15% for ZTE, and 34 for Oppo Mobile Communications. %, vivo communication technology is 26%
In 2016, except for Apple and Samsung Electronics, the use of embedded touch panels will increase by 15-20%.
In 2016, Samsung Electronics and Apple Inc. are likely to slightly increase the popularity of AMOLED on-cell and LCD in-cell panels, which will enable add-on types such as GFF, GFM, and OGM. The touch panel market has become more difficult.
Import 1T2R type LCD on-cell touch panel
As of 2015, among various embedded panel types, AMOLED on-cell has been adopted by Samsung Electronics, Oppo, vivo, Huawei, Gimlink, ZTE, Meizu, and HTC, while LCD in-cell. Has been adopted by Apple, and as of 2015, Huawei, LG Electronics, Xiaomi, ZTE, Cool Digital, Motorola Mobile, Lenovo, and Microsoft have adopted LCD on-cell.
As far as LCD on-cell is concerned, by the end of 2015, the mainstream is a five-point touch panel with a single-layer sensor whose sensor (Tx) and receiver (Rx) are on the same side. It is a single-layer model and has become Caterpillar in the industry, which is more competitive with the touch model where the sensing layer (Tx) and the receiving layer (Rx) are separated because it is compared with the double-layer model. A single layer requires less than two or three photomasks. However, the number of pins connected to a flexible printed circuit board (FPC) was increased to 300 to 400 based on a 5-inch module, which resulted in a decrease in FPC bond production.
To solve these deficiencies, a Caterpillar model called "1T2R type" was developed. In order to distinguish between old and new versions, the old model is called "1T1R model" and the new model is called "1T2R model."
As shown in the above figure, Tx and Rx have 14 and 26 transmission channels, respectively, and the two-layer projected capacitive touch panel has 40 stitches, while the "1T1R model" and "1T2R model" have 378 stitches and 210 respectively. Contacts. Although the number of needles in the 1T2R is 170 stitches in comparison with the double-layer model, there are 168 fewer stitches than the 1T1R model.
The reduction in the number of channels leads to a reduction in the number of needles and a reduction in the size of the FPC, which makes the bonding process much easier. In particular, with the increase in bond yields, price competitiveness has also improved. In addition, the LCD Module (LCM) company purchased a 1T2R model LCD semi-finished product from an LCD panel manufacturer, so that a 1T2R model module can be produced without any additional investment in the equipment.
Chinese LCD panel makers are actively looking at 1T2R model LCD on-cell
Among LCD panel makers, Innolux, HannStar Display, and BOE are now mass producing 1T2R model LCD on-cells. Meanwhile, Chunghwa Picture Tubes (CPT) and Tianma Microelectronics are also preparing to manufacture the models. The thin film transistor (TFT)-LCD panels of high definition (HD) or full-width image pattern array resolution gradually lose their market competitiveness. Recently, the newly developed 1T2R model is being applied to TFT-LCD panels, which has led to an increase in the market competitiveness of TFT-LCD panels.
Smartphone brand companies such as Motorola, Microsoft, Coolpad, Konka, Jinli, Huawei, and ZTE are actively applying the 1T2R models of on-cell touch LCDs to some sub-$100 low-end smart phone models. China's smart phone independent design and manufacture brand has generated great interest in the 1T2R model.
If the 1T2R model LCD on-cell can achieve the expected price competitiveness, it will erode the GFM touch panel market of low-end smart phones.