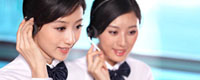 Name: Cassie.Huang
Tel: +86-755-27864416
Fax: +86-755-27864653
Mobile: 15989366182
E-mail: cassie@rxxdisplay.com
Skype: live:cassie_1191
QQ: 2850818618




Company News
>> The OLED peak event will be opened again. The display industry is welcoming the Chinese OLED era. 21th,Sep,2018
It is worth mentioning that in addition to the excellent performance in terms of image quality, OLED also shows a unique aspect in design. At the event, the organizers presented an 88-inch 8K OLED screen, a 65-inch reel OLED screen, and a 55-inch transparent OLED screen. Among them, the 65-inch curly OLED screen was the first time to appear in China, and its stunning shape attracted the interest of the participants. The 8K ultra-high definition resolution is also the development direction of the future display industry, and OLED is also at the forefront in this regard.
The OLED peak event will be opened again. The display industry is welcoming the Chinese OLED era.
55-inch transparent OLED screen
The OLED peak event will be opened again. The display industry is welcoming the Chinese OLED era.
OLED Guangzhou plant becomes the focus, LGD releases China market strategy
At this conference, the OLED Guangzhou factory has been the focus of the pursuit of all parties. This is also the first time that LG Display has made a public voice since the factory was approved for construction.
In the interview, LG Display Greater China President Yin Yusheng said that LG Display is actively shifting its focus from LCD to OLED in order to promote the sustainable development of the display industry. To this end, LG Display has invested in both China and South Korea, especially in Guangzhou, China, which is investing 46 billion yuan, and is aiming at mass production in the second half of next year.
The OLED peak event will be opened again. The display industry is welcoming the Chinese OLED era.
President of Huang Longqi, LG Display TV Business Division
As the world's first large-size OLED panel manufacturer, LG Display has seen the development potential of China's OLED market, continuously strengthened its investment in China, and cooperated with partners to promote the development of the OLED industry. At the peak event, President Huang Longqi of LG Display TV Business Division released the OLED China market strategy, and announced that LG Display will cooperate with Chinese government, TV manufacturers, channel partners and other partners to further build China's OLED ecosystem to provide consumers with A better TV experience and a multi-win situation.
It is understood that LG Display has maintained close cooperation with the Guangzhou government since the investment in module factories in the mid-2000s. In 2014, LG Display established its first overseas LCD panel factory in Guangzhou. The new Guangzhou OLED factory can make full use of the existing infrastructure, so it will be more competitive, and will bring direct or indirect economic benefits to the upstream and downstream of the industry chain, and create more jobs. LG Display CMO President Lu Xiangde believes that the future large-size OLED TV market will develop rapidly, and the Guangzhou OLED factory will make a major contribution to the development of China and the global OLED TV industry.