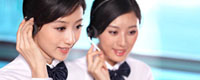 Name: Cassie.Huang
Tel: +86-755-27864416
Fax: +86-755-27864653
Mobile: 15989366182
E-mail: cassie@rxxdisplay.com
Skype: live:cassie_1191
QQ: 2850818618




Company News
>> 2020, BOE will supply OLED panels for Apple, and will become the rival of Samsung and Sharp. 12th,Oct,2018
Continental panel leader BOE is actively striving to become an Apple organic light-emitting diode (OLED) panel supplier, with the fastest 2020 touchdown. If it comes true, it will not only prove that China has won a big victory in catching up with South Korea and Japan's advanced panel technology, but also will become the enemy of Sharp in the Chenghonghai Group.
Hon Hai participated in Sharp in 2016, and Hon Hai, chairman of Hon Hai, and set OLED as an important goal. However, mass production of OLED is not an easy task. After two years, Sharp OLED is still in the trial production stage. If it is mass-produced, it is expected that Hon Hai will have a better chance to tie up Apple.
According to the Wall Street Journal, people familiar with the matter said that BOE may not be able to supply OLED screen panels to Apple as soon as 2020. Earlier sources said that for the new iPhone scheduled to be released later this year, Apple will still mainly purchase screen panels from Samsung Electronics, and the rest will be supplied by LG Display. According to the report, despite the difficulty in mass production of OLEDs, even Samsung has been plagued by low yields, but BOE is still very likely to become a supplier of Apple's OLED screens.
Zhang Yu, senior vice president of BOE, said that BOE has supplied OLED screen panels to Huawei's high-end model Mate RS, and it is expected to provide more screens to several major customers later this year. Zhang Yu revealed that after several months of testing, the current product yield of the BOE Sichuan Chengdu plant is about 70%. Industry experts say this represents near-stable mass production.
For now, BOE, the domestic panel maker, is the largest manufacturer of large-size LCD panels. According to a report from the data analysis company IHS Markit Display Research, BOE has become the world's largest LCD screen since last year. The largest supplier, and in 2014 BOE's ranking is only the fifth.
The Wall Street Journal said that BOE has developed rapidly in the display industry and is eager to prove its manufacturing capabilities with a technically challenging product, which means that domestic panels are catching up with advanced display manufacturing technologies in Korea and Japan. A big victory. Although Apple is notoriously critical in the demand for high-quality components, BOE is the only Chinese company in the past for Apple's display panel suppliers, which gives BOE the confidence to overcome the difficulties for Apple to produce OLED panels.
For Apple, BOE will be listed as an OLED screen supplier, offering another option besides Samsung. Apple and Samsung are competitors in the smart phone market, but Apple relies on Samsung to provide OLED screens. Analysts pointed out that Apple wants to diversify its supply sources, minimize production risks, and ensure price competitiveness.
Apple's purchase of screens from BOE can also help Apple maintain its relationship with Chinese officials, provided that BOE can meet Apple's requirements in terms of quality.
Apple and Samsung have a competitive relationship in the smart phone industry, but rely on the OLED screen they manufacture, and Apple itself is very uncomfortable. If BOE can supply OLED panels to Apple on time in 2020, it will be confusing for anyone to rule the country in the future.