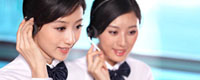 Name: Cassie.Huang
Tel: +86-755-27864416
Fax: +86-755-27864653
Mobile: 15989366182
E-mail: cassie@rxxdisplay.com
Skype: live:cassie_1191
QQ: 2850818618




Company News
>> Yuan too fade out of the LCD off 2.5 generation plant 20th,Feb,2017
Yuan Tai announced on the 23rd since October to shut down its Hsinchu's 2.5 generation LCD factory, in order to save personnel costs, is expected to have more than 190 employees affected, Yuan said that the arrangement has been arranged, and referral to AUO And other five companies serving.
Yuan said that the future will focus on the development of electronic paper in the multi-application, fade out LCD business. The company's e-paper production line is mainly located in Linkou and the United States, as before the acquisition of South Korea Hydis three generations of LCD production line, has been closed in 2015.
Yuan Tai 2.5 generation plant is Taiwan's first LCD factory, established in 1992, has more than 20 years of history, this 2.5 generation plant is half of the lease to Japan and China production color filter use, the other half Turn to do the experimental line, as a technology research and development, no longer mass production.
Yuan said that after the closure of the 2.5 generation plant, mainly to save personnel costs, the 2.5 generation plant a total of 265 employees, of which more than 70 people continue to stay in the experimental line of work, the plant will be converted to R & D technology development The Affected by more than 190 employees, Yuan Tai proposed a retreat program, and referral to AUO, Qunchuang, TSMC and the world's advanced companies, providing more than 200 jobs.
In recent years, 2.5 to five generations, and even six generations and seven generations of LCD production lines have been closed, including Japan, South Korea, Taiwan and mainland China are so, mainly the old generation of production lines are not competitive,

As for the Samsung monitor off the seven generations of plants, mainly the plant space and resources, used to do the most profitable active organic light emitting diode (AMOLED) panel, so fade out of LCD business. Continental panel plant also put resources into AMOLED, to reduce investment in the LCD.