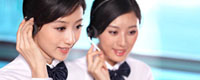 Name: Cassie.Huang
Tel: +86-755-27864416
Fax: +86-755-27864653
Mobile: 15989366182
E-mail: cassie@rxxdisplay.com
Skype: live:cassie_1191
QQ: 2850818618




Company News
>> BOE Fuzhou 6th generation AMOLED production line is scheduled to start 19th,April,2019
Recently, BOE intends to launch a new round of investment of 46.5 billion yuan to expand the 6th generation AMOLED panel production line. According to the investment agreement, the size of the glass substrate of the production line was 1500mm×1850mm, and the design capacity finally reached 48,000 pieces per month. The total investment is not less than 46.5 billion yuan, and the registered capital of the project company is 26 billion yuan.
In the field of semiconductor display, BOE has invested in the first 5th generation TFT-LCD production line, the first 6th generation TFT-LCD production line and the first 8.5th generation TFT-LCD production line in China since 2003. It ended the "innocent LCD screen era" in mainland China.
The 6th generation flexible AMOLED production line project announced by BOE is located in Chengdu, Chongqing, Mianyang and Fuzhou. The Chengdu production line has been put into production, and the Mianyang production line is expected to be put into operation this year. The Chongqing production line is under construction.
BOE is expected to continue to expand its market share in this area and compete with companies including Samsung Display, LG Display, Sharp and Japan Display (JDI).
According to IHS Markit data, global shipments of flexible OLED panels reached 157.6 million units in 2018, a three-fold increase over 2015. During this period, the compound annual growth rate reached 50%.