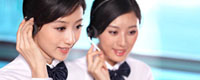 Name: Cassie.Huang
Tel: +86-755-27864416
Fax: +86-755-27864653
Mobile: 15989366182
E-mail: cassie@rxxdisplay.com
Skype: live:cassie_1191
QQ: 2850818618




Company News
>> Apple's new patent "Future OLED and Quantum Dots": Thinner, Longer Service Life 6th,May,2019
According to foreign media iDropNews, Apple recently applied for a new patent. According to the latest patent list of the US Trademark and Patent Office, the patent name is: "Quantum dot LED (QLED) and OLED integrated in the display".
It is reported that the patent refers to the implementation of a quantum dot pixel display technology on a display device, which actually splits the components of a single pixel into several sub-pixels, and then combines the advantages of both QLED and OLED technologies in one pixel.
According to reports, QLED-OLED technology can make the display display more "pure" color, while consuming less power and extending the life of the screen. In addition, in theory, the QLED display is thinner than the OLED display, so the QLED-OLED hybrid display will also become thinner.
From these advantages, the QLED-OLED hybrid display will be the perfect choice for Apple Watch devices and other wearable devices.