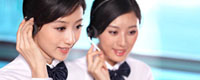 Name: Cassie.Huang
Tel: +86-755-27864416
Fax: +86-755-27864653
Mobile: 15989366182
E-mail: cassie@rxxdisplay.com
Skype: live:cassie_1191
QQ: 2850818618




Company News
>> Glory wisdom screen test water TV industry Black technology graphene display technology 23th,July,2019
Is Huawei going to the TV industry? This question has been lingering in the hearts of the people for a long time. Previously, some news media speculated that Huawei had to enter the television industry, but it has not been officially confirmed.
A few days ago, Glory officially held a communication meeting in Beijing to answer this question on the spot. Zhao Ming, CEO of Glory, said that the wisdom screen that glory does is not television, but the future of television. At the meeting, Zhao Ming gave a detailed introduction to the concept of glory and wisdom screen. He believed that the mobile phone is the individual center of young people, and the smart screen is the family center in the living room. It connects your smart home and wearable devices.
Glory wisdom screen test water TV industry, black technology graphene enabling display technology
The glory wisdom screen is the answer Huawei has given to the society. Although the appearance, interior and TV are almost the same, it can take part in the functions of the mobile phone and open the full scene smart experience with "smart connection" as the core. The smart screen developed by Glory is not only the emotional center of the family, but also enables audio and video entertainment, information sharing, and as a control center.
What kind of eye-catching technology will the first smart screen of Huawei's water testing TV industry bring? Last year, the glory new mobile phone Magic 2 broke through the introduction of graphene technology, which brought surprises to electronic enthusiasts. I believe that the glory wisdom screen is no exception.
Graphene is widely used in the display field. Because graphene has excellent optical, electrical and mechanical properties, it is considered to be an ideal material. For the smart screen, the application of graphene technology in the display field is superior to the ordinary liquid crystal panel, and it has made a big step in the industrial application of graphene materials in China.
Glory wisdom screen test water TV industry, black technology graphene enabling display technology
Graphene is one of the thinnest known materials and has good flexibility. At room temperature, electrons are transferred faster than known conductors. Under the action of external force, the surface of the crystal lattice is prone to bending deformation, so that the carbon atoms do not have to be rearranged to adapt to external forces, and the structure is relatively stable. When electrons in graphene move in orbit, they do not scatter due to lattice defects or introduction of foreign atoms. Graphene has many characteristics to meet the application requirements of display technology.
Display products based on graphene materials can well overcome today's technical limitations and make liquid crystal panels play a good role in performance stability. Graphene materials enable a variety of applications in the TV industry, making technology a temperature!