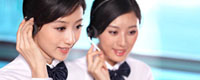 Name: Cassie.Huang
Tel: +86-755-27864416
Fax: +86-755-27864653
Mobile: 15989366182
E-mail: cassie@rxxdisplay.com
Skype: live:cassie_1191
QQ: 2850818618




Company News
>> Smaller and smaller pixels, Chuangwang develops 0.2 inch 3000ppi OLED 4th,Sep,2019
Yesterday, 2019 Touch Taiwan was held at the Taipei Nangang Exhibition Hall. At the show, King created the first 0.2-inch 3000PPI OLED sample.
"Wisdom Display" previously reported that Chuangwang independently developed a 2.17-inch 2300 PPI OLED, and the main application direction of this product is VR. The 0.2-inch 3000PPI Real RGB OLED is smaller in size and higher in pixel density, making it suitable for AR products.
Non-silicon based OLED, Chuangwang has developed a 0.2 inch 3000ppi OLED
Currently, the mainstream high pixel density OLED product is Si-OLED. Silicon-based OLEDs use monocrystalline silicon as the active driving backplane, which has the advantages of high resolution, high integration, small size and light weight. BOE exhibited a 0.39-inch 5644 PPI silicon-based OLED, and the vision technology 1.03-inch 2.5Kx2.5K silicon-based OLED has also been lit.
Unlike silicon-based OLEDs, Chuangwang UHPD (Ultra High Pixel Density) technology is an RGB AMOLED display developed on glass substrates that inserts more per unit area through unique sub-micron TFT technology and OLED patterning technology. Pixels can eliminate the VR/AR screen effect and make the picture quality clearer.
According to the person in charge of Chuangwang, the 0.2-inch 3000PPI OLED brightness of the King is over 3000nit, which can be made into a flexible or transparent display. UHPD technology has the advantages of high color gamut saturation, high brightness, low power consumption, low cost, and more flexible appearance.
However, the King's 0.2-inch 3000PPI OLED is still in the sample stage, and then the mass production and matching needs to find partners to jointly promote.