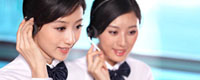 Name: Cassie.Huang
Tel: +86-755-27864416
Fax: +86-755-27864653
Mobile: 15989366182
E-mail: cassie@rxxdisplay.com
Skype: live:cassie_1191
QQ: 2850818618




Company News
>> Zhouming UpanelⅡ series of small-pitch display won the German "iF Design Award" 31th,March,2020
Recently, Zhouming Intelligent Small Pitch LED Display UppanelⅡ series (ie, the domestic small pitch product "UHPⅡ" series) won the German "iF Design Award", which is another product of this series of products following the 2019 "Red Dot Design Award" Important honor.
The "iF Product Design Award" in Germany, founded in 1953, is the world's most authoritative and influential industry with the German "Red Dot Award" and the "IDEA Award". One of the design awards. The award is held annually by the Hannover Industrial Design Forum, Germany's oldest industrial design agency, and is known worldwide for its "independent, rigorous, and reliable" judging philosophy.
In 2020, the "iF Design Award" has a total of 7,298 designs from 56 countries in the world who have been selected for final review. After being selected by an iF independent review conference composed of international experts, Zhouming's UpanelⅡ series products have obtained 78 specialties for their outstanding product design and excellent performance The judges favored and won the "iF Design Award" in one fell swoop.
As the basic splicing unit of LED giant seamless display, Zhouming UpanelⅡ series display pixels can reach an amazing 0.6mm, the splicing flatness can be controlled below 0.05mm, reaching the limit of the existing process, and can present customers with unparalleled display effects; Compared with the traditional rear maintenance method of small-pitch LED display, the unique staggered positioning lock design of Upanel Ⅱ series can meet the front and rear installation and maintenance in various applications, without having to reserve the rear installation channel, thereby saving construction time and cost. ; The display surface is covered with an optical film, which can solve the problems of dazzling and eye distension of traditional LED indoor products, and can protect the LED lamp beads from damage and have a longer service life.
In appearance design, Upanel Ⅱ series boldly adopts asymmetric geometric shape, breaking the conventional center-symmetric design, weakening the independent image of a single box, when multiple units are spliced ​​together, it presents an infinitely extending visual effect. Give users a holistic, smooth visual experience while producing a unique and attractive aesthetic.
In addition, the interior of the Upanel Ⅱ series cabinet adopts a sealed structure and a modular design, which achieves efficient heat dissipation and high-level IP60 protection. The wireless connection between the cabinets effectively reduces the screen failure rate and extends the screen mission life; the cabinet power switch Adopting a telescopic structure, it can realize the function of automatic power-off when a fault occurs, ensuring 100% safe operation of the screen, and bringing a superior user experience.
At present, Upanel Ⅱ series products rely on excellent product design, perfect display effects, and intelligent MDC multi-scenario display switching functions, and have achieved landing applications in emergency, security, medicine, energy, broadcasting, and city management. 2, the majority of users praise.
Volkswagen China Headquarters
Yunnan Baiyao Group Health Industry Park
As a LED application product and solution provider, Zhouming has always focused on the R & D and innovation of LED products, and is committed to bringing unique and comfortable LED product experience to users worldwide. In addition to the Upanel Ⅱ series that won the "iF Design Award", Zhouming Unano products have also won international professional design awards such as the "Red Dot Extreme Award", "Golden Dot Design Award" and "Red Star Award". It is the only one in the industry that has won six World Design Awards including "Red Dot Gold Award", German "iF Gold Award", American "IDEA Award", Japan "G-Mark Design Award", "Asia's Most Influential Gold Award" and "Red Star Award" The product.
In recent years, China's manufacturing industry has paid more and more attention to industrial design, and regards it and technological innovation as the two wheels from "made in China" to "created in China". Zhouming's Upanel Ⅱ series LED display won the German "iF Design Award" this time, which is an affirmation of Zhouming's adherence to technological innovation and industrial design, and will further strengthen Zhouming's confidence and determination to practice "Creation in China".
In the future, Zhouming will continue to adhere to scientific research and product innovation, focus on improving product design and user experience, return customers and society with better products and services, bring a good audio-visual experience for human life, and create a "Chinese-created" experience for the LED industry. Rise contributes.