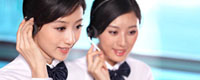 Name: Cassie.Huang
Tel: +86-755-27864416
Fax: +86-755-27864653
Mobile: 15989366182
E-mail: cassie@rxxdisplay.com
Skype: live:cassie_1191
QQ: 2850818618




Company News
>> The world's largest supplier of small and medium-sized monochrome displays signs with Shiqiang to provide high-end customization of LCD and TFT screens 14th,April,2020
It is reported that Yidu, the world's largest supplier of small and medium-sized monochrome displays, has signed a cooperation agreement with the hard service platform-Shiqiang Component E-commerce, authorizing Shiqiang to represent its full range of products such as LCD, TFT and touch screen. 500,000 engineers and users provide high-end display customization services, supporting 1 to 21 inches, LCD, TFT, CTP, CTP + TFT and other types, 300 to 1600 brightness, -30 ° C to 90 ° C operating temperature range.
Since its establishment in 1988, Yidu has been focusing on the R & D and production of liquid crystal displays and liquid crystal display modules. With its 30 years of accumulated experience, 80% of its products are exported overseas, successfully covering global medical equipment, instruments, household appliances, Application areas for small and medium-sized display screens such as watches and game consoles.
At present, engineers can view technical information such as selection guides, test reports, data manuals, etc. of Yidu's full line of products on the Shiqiang component e-commerce platform. All products support free sample applications, and 100% original products are guaranteed.
In addition, engineers can submit "display customization" requirements online to support customization of application scenarios, screen categories, sizes, resolutions, product shapes, lamp colors, additional processes, and other parameters. The platform 's hundreds of technical experts in the field of display will help engineers Evaluate the best customized solution, assist engineers to quickly complete new product design, and improve R & D efficiency.