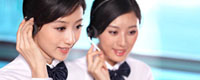 Name: Cassie.Huang
Tel: +86-755-27864416
Fax: +86-755-27864653
Mobile: 15989366182
E-mail: cassie@rxxdisplay.com
Skype: live:cassie_1191
QQ: 2850818618




Company News
>> BOE's OLED will be applied to iPhone 12S or iPhone 13 18th,Sep,2020
According to Korean media reports, BOE has restarted its attempt to enter the iPhone screen supply chain.
According to reports, at the beginning of the year, BOE tried to supply Apple iPhone 12, but it was eventually replaced by Samsung and LG because the production line yield did not meet the requirements.
This time, the products that BOE submitted for review came from the B7 production line in Chengdu, Sichuan, rather than the B11 production line in the previous round.
The B7 line was put into production in 2017, which has a more stable yield than the B11 line put into production in 2019. It is said that in the first half of this year, the yield rate of the B11 line was only 20%, especially for the light-emitting layer and thin film layer.
In terms of production capacity, B11 accounted for 25% of JD's 16 million OLED panels in the first half of the year.
It is reported that Apple's review work needs to be completed before the end of the year, and there should be no errors in samples and quantity products. This also means that even if everything goes well, BOE's OLED will be applied to the iPhone 12S or iPhone 13 as soon as next year.