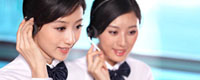 Name: Cassie.Huang
Tel: +86-755-27864416
Fax: +86-755-27864653
Mobile: 15989366182
E-mail: cassie@rxxdisplay.com
Skype: live:cassie_1191
QQ: 2850818618




Company News
>> iPad is equipped with Mini LED for the first time, a list of related companies 8th,May,2021
Behind the global chip shortage: my country's chip-related company registrations increased by 302% year-on-year in the first quarter
According to the company's data, since the end of 2020, chip shortages have swept the world. Many car manufacturers have cut production due to chip shortages. Consumer electronics, Internet of Things and other markets have also experienced chip shortages to varying degrees. At present, there are 74,100 chip-related companies in my country (including the upstream and downstream links of the industrial chain). In 2020, there are 22,800 newly registered companies. In the first quarter of this year, there were 8,679 new companies, a year-on-year increase of 302%. In terms of regional distribution, Guangdong Province currently ranks first with 25,200 companies, Jiangsu and Zhejiang are ranked second and third, and Shenzhen is the number one city.
iPad is equipped with Mini LED for the first time, a list of related companies
Recently, Apple officially held an online "Spring Loaded" special event, and released new products such as iPad Pro equipped with Mini LED, Airtag, and iMac equipped with M1 chip. Among them, the most eye-catching is undoubtedly the new generation of iPad Pro, 12.9 The inch iPad Pro uses Mini LED material and is Apple's first product to use Mini LED screens. According to statistics, A-share LED chip suppliers include San'an Optoelectronics, HC Semitek, Qianzhao Optoelectronics, and Zhaochi. Among them, San'an Optoelectronics invested 12 billion yuan in the production of Mini/Micro led chips in 2019, and San'an Optoelectronics has become Samsung's primary supplier of Mini/Micro led chips, and has achieved mass supply of Mini LED chips. The midstream package terminal mainly includes National Star Optoelectronics, Mulinsen, Hongli Zhihui, Jufei Optoelectronics, Ruifeng Optoelectronics, and PCB terminal Pengding Holdings. Downstream brands include Leyard, Unilumin Technology and Lehman Optoelectronics.
Ziguang Guowei released its 2020 annual report performance, net profit increased by 98.74%
Ziguang Guowei released its 2020 performance report. During the reporting period, it achieved a revenue of 3.27 billion yuan. After deducting the impact of changes in the scope of consolidation, the same caliber increased by 26.38%; the net profit attributable to shareholders of listed companies was 806 million yuan, compared An increase of 98.74% over the same period last year. For the whole year of 2020, the scale of Unisplendour Microelectronics has maintained rapid growth, especially the revenue and profit of the special integrated circuit business have achieved rapid growth, with a growth rate of more than 50%. The annual shipments of smart security chips hit a record high. The market position of key industry applications such as SIM card chips and bank IC card chips has been further consolidated. Overseas sales of high-end SIM card chips have increased significantly. The independently developed THD89 series chips became the first domestic product to obtain The world's highest security level certification SOGIS CC EAL6+ and a security chip that supports EMV one-core dual-application.
ASML first quarter financial report: new orders amounted to 4.7 billion euros
ASML released its financial report for the first quarter of 2021. In the first quarter, net sales were 4.4 billion euros, gross profit margin reached 53.9%, net profit was 1.3 billion euros, and the amount of new orders in the first quarter was 4.7 billion euros. ASML expects sales in the second quarter of 2021 to be between 4 billion Euros and 4.1 billion Euros, with a gross profit margin of approximately 49%, R&D investment of approximately 650 million Euros, and sales and administrative expenses of approximately 175 million Euros. It is estimated that the effective tax rate for 2021 will be between 14% and 15%, and it is expected that the income in 2021 will increase by nearly 30% over last year.