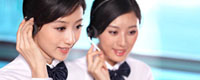 Name: Cassie.Huang
Tel: +86-755-27864416
Fax: +86-755-27864653
Mobile: 15989366182
E-mail: cassie@rxxdisplay.com
Skype: live:cassie_1191
QQ: 2850818618




Company News
>> The rise of Chinese screens? BOE Super LG tops the list! 14th,Sep,2021
According to the news on September 2nd, according to the Nikkei Chinese website, its "Survey on the Share of Major Products and Services" in the global market for 2020 shows that in the field of large LCD panels, BOE Technology Group (BOE) has jumped to the first place for the first time, and Huaxing Optoelectronics ranks fifth, and the presence of Chinese companies has increased significantly.
The list is calculated based on the total amount of shipments. BOE's share was 22.9%, an increase of 2.2 percentage points from 2019. LG Display ranked second with a share of 17.2%, a drop of 6.7 percentage points. Taiwan's Yoda Optoelectronics remains third, and its share has not changed much.
If it is calculated in terms of shipment volume, BOE's shipment volume as early as 2017 can be on the top of the list, this time the total amount has reached the top of the list, achieving a milestone achievement. However, this also shows that the unit price of BOE's large panels is far lower than that of LG Display, and the corresponding profits may be much less. Chinese companies still have a long way to go.
China launched a high-tech industry support policy "Made in China 2025" in 2015 to continue to provide technical support for high-tech production. With the help of huge subsidies, BOE expanded its market share with low prices as its competitiveness. Today, BOE occupies the largest market share of large-scale LCD panels, and it has reached the stage of flowering.
Although BOE has won the market number one in the field of large LCD panels, it is not a happy thing, because the previous giants, Samsung and LG Display, have voluntarily withdrew, and they are more focused on the OLED industry with higher profit margins. Samsung occupies a dominant position in small-size OLED panels, while LG Display is committed to large-scale OLED panels, and Korean companies account for 86.7% of the OLED industry.
The good news is that OLED is not a single technological direction in the current panel industry. Mini-LED technology has been sought after by companies such as Apple, Huawei, and Xiaomi. China Star Optoelectronics, a subsidiary of TCL, has accumulated many technologies in this area.
Compared with ordinary LCD screens, the contrast and brightness of mini-LED have been greatly improved, and the display effect has been greatly upgraded. Compared with OLED screens, mini-LED has a longer life span and is more suitable for use in televisions, monitors and other equipment. OLED screens are thinner and more suitable for mobile phones that care about the thickness of the body.