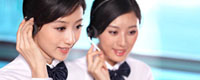 Name: Cassie.Huang
Tel: +86-755-27864416
Fax: +86-755-27864653
Mobile: 15989366182
E-mail: cassie@rxxdisplay.com
Skype: live:cassie_1191
QQ: 2850818618




Company News
>> Sharp OLED panels aim at the first external sales of the medical market 22th,Oct,2021
It has been two years since the start of production in 2018, and Sharp announced the first external sale of OLED panels, which is unexpectedly in the smart medical market. The ultra-high-brightness OLED module developed by Sharp this time will be used by the Japanese medical manufacturer Finex in the Gaze Analysing Perimeter (Gaze Analysing Perimeter).
Sharp has achieved ultra-high brightness through fine-tuning current control and other technologies, reaching more than 3,000 cd/㎡, which is 3 to 5 times the brightness of ordinary consumer-grade products. In addition, Sharp also collaborated with FINDEX and EMC Healthcare, a subsidiary of FINDEX, to develop a chip that can view grayscale characteristics to achieve the best display for different brightness.
After the introduction of this module into the vision detector of medical institutions, it is expected that diseases such as glaucoma and retinal detachment can be detected and treated as soon as possible.
RUNTO believes that at a time when Apple cannot start supplying OLEDs, the future of Japanese manufacturers with high personnel management costs such as Sharp is to continue to develop distinctive OLED modules for use in medical, automotive and other applications. The high value-added niche market achieves more innovation and establishes the barriers for other manufacturers to enter this market. At the same time, in the dedicated or commercial market, solving the reliability and lifetime of OLEDs is also the most basic issue.
At present, the smart medical market has a huge space, especially the medical imaging market in equipment. According to the RUNTO Smart Medical Report, China's medical imaging market is expected to reach US$18 billion in 2020, accounting for 20% of the global medical imaging market; from 2010 to 2020, the compound growth rate of China's medical imaging market will reach 14. 4%. 2010-2020 China's medical imaging industry market size