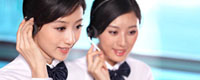 Name: Cassie.Huang
Tel: +86-755-27864416
Fax: +86-755-27864653
Mobile: 15989366182
E-mail: cassie@rxxdisplay.com
Skype: live:cassie_1191
QQ: 2850818618




Company News
>> LG show future OLED and LCD technology strength 2nd,Mar,2017
January 6 to January 9, the world's leading display industry leader LG Display will bring its many leading display products debut in Las Vegas, the United States held CES (Consumer Electronics Show, Consumer Electronics Show) 2016, show At the Las Vegas Convention and Exhibition Center, LG Display has set up a display area such as OLED Zone and LCD Zone, and has launched a separate display area for the fast-growing commercial display market and the car display market. Display the product, for the audience to convey "our innovation, beyond your imagination" (Your Imagination, Our Innovation) concept.
Many OLED leading products collective debut
The show, OLED is still one of the core display of LG Display, the display covers its perfect picture quality performance, amazing design flexibility, and its application in more areas and equipment to show the infinite possibilities.
The first appearance is in the contrast, color gamut, perspective and other aspects of the current best quality recognition of 65,77 inch TV UHD OLED panel. The product has the same level of performance as the professional product used in editing movies, and is able to show the perfect black that belongs to the OLED only, while the brightness is further enhanced, and equipped with HDR technology, with the existing display technology can not match the quality The
LG Display also demonstrated the use of 55-inch double-sided display, as well as 8-inch 65-inch OLED, through the double-sided splicing the formation of "S" form display wall 139 inch VTO (Vertical Tiling OLED) and other products, Showing the possibility of unlimited development of OLEDs in commercial displays.
In addition, LG Display also demonstrated the world's first 18-inch bendable 18-inch rollable OLED, 65-inch Concave / Convex OLED, and the control circuit hidden in the bottom of the screen, Thin design concept of 55-inch Paper-Thin OLED TV, for users to show the future of the infinite possibilities of OLED.